Adult Education Innovations
State Contacts
---
State Agency

Marilyn Pitzulo
Associate Chief Operating Officer-Adult Education
Department of Workforce Development
10 N. Senate Avenue Indianapolis, IN 46204
Phone: (813) 345-5446 Fax: (371) 232-1821
Email: MPitzulo@dwd.in.gov
Website: http://www.in.gov/dwd/adulted.htm

State Association

Brandi Cardwell
Member Benefits Coordinator
Indiana Association for Adult and Continuing Education (IAACE)
Phone: 269-221-3039
Email:iaace2@gmail.com
Website: http://www.iaace.com/
State Reports on Adult Education
---
Indiana

State Data on Adult Education
---
Indiana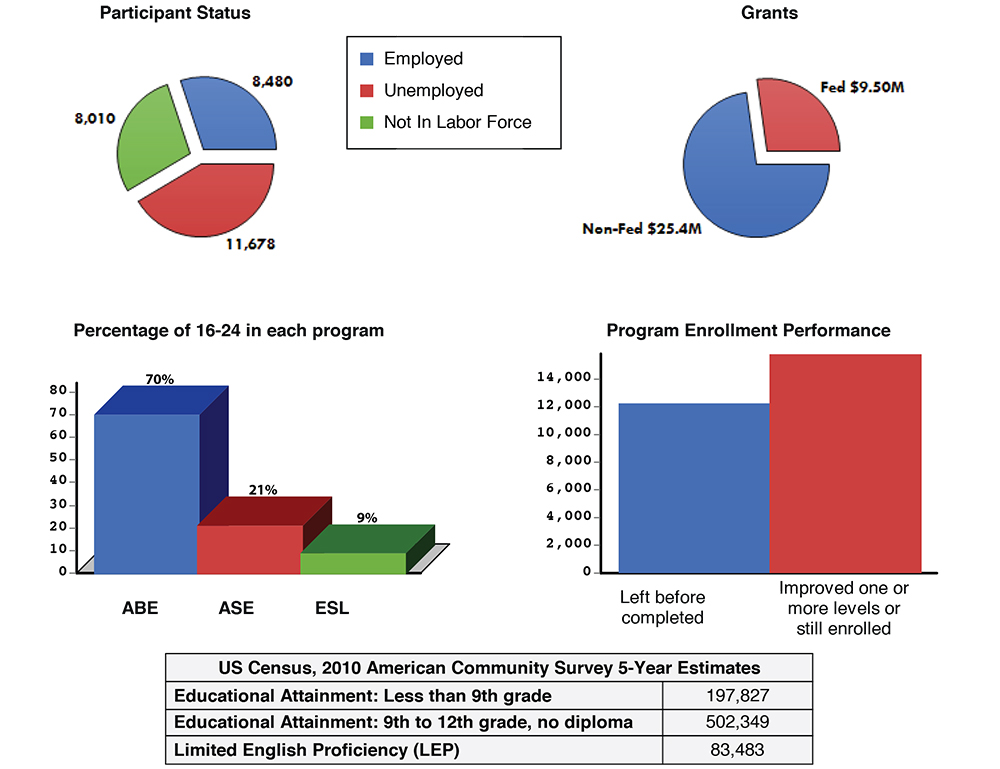 Indiana
Strategy Concept
Indiana
The Challenge
After a student registers for the AE program, I implement the strategy concept. The student and I fill out a strategy card where he or she dictates how their course of study will culminate in the student obtaining the HSE in the shortest amount of time. The student helps plot their success, sees the steps in the pathway, selects their testing date, and then starts their course of study. The student has an active part in their success.
The Solution
The strategy concept is implemented by the student and teacher. A strategy card is filled out and placed in the student folder where the student analyzes their pretest scoring, plots their success, sees the steps in the pathway to HSE and beyond to ACCUPLACER and WorkIN programs, selects their testing dates, and charts their course of study, therefore, taking responsibility for their success.
The Outcome
Through the implementation of this strategy, there have been 205 students that have achieved their GED®/HSE credential through me as their teacher. However, I have 10 students waiting for test results or scheduled to take tests within the next week. What is so remarkable is that Ohio County is the smallest county in the state of Indiana and only has one teacher. The successes have been a wonderful testament to the program. Also, every student's picture is on the wall of fame for all to see.
Adult Student Success Stories
---
Indiana
An Incarcerated Man
Adult Learner
The Challenge
Our student had been incarcerated for a crime that caused him to be ashamed of himself and lose the faith and support of his family. He had been locked away from them for four years and had not received any communication from them in all that time. He wrote to them every week to keep them informed of his life even though he got no response. His family lived within 10 miles of the facility where he was housed. He felt like he had lost his family and was completely alone.
The Solution
After being in classes for HSE for a year, he received a letter from his mother. Taking charge of his life and getting an education showed his family that he was changing and that he had good things to offer. He began holding his head high and progressing at an even faster pace. He constantly asked for more work to do on his own. He realized that he was not a loss to society or his family.
The Outcome
After two years in the program, he became more literate and obtained a high school equivalency credential. His family came to his graduation, and he became a tutor to help others during the rest of his sentence. There was no stopping him—he was an asset to the program, and he became a man he thought he wasn't capable of becoming. 
Tylor Marino
Adult Learner
The Challenge
Tylor Marino exited South Dearborn High School as a senior due to lack of credits but wanted to join the Marines. His pretest results were below 9.0 except reading. He felt that he was not valued as a student or as a person, and he received no help in school. He could not perform fractions or percentages. He had little knowledge of geometry, measurement, and algebra. His language skills were deficient in usage, punctuation, and sentence formation. He had a lot of skills to learn in a short amount of time.
The Solution
His ABE teacher used a one-on-one approach to teach math and language skills and also used ITTS and connected online programs. Tylor raised reading to 10.7, math to 8.9, and language to 10.8. He passed all TASC tests except math. His teacher tutored Tylor in understanding polynomials, systems of equations, quadratic equations, geometry, measurements, and the Pythagorean theorem. After much studying, one day Tylor announced, "I got this!" On December 12, 2016, Tylor passed his last test, math. Only through his desire to succeed was this possible.
The Outcome
After passing the HSE test, he asked if he could be referred to the welding program offered at Ivy Tech in Madison. Even though the class started at 8 a.m. and he lived an hour away in harsh winter conditions, he was applauded by his instructor as being extremely motivated to learn the welding techniques. He received his AWS certification in December 2016. He was immediately hired as a sub-contractor by Bruns-Gutzwiller through the Local Union 741 earning $34.85 an hour.  
Braden Wallen
Adult Learner
The Challenge
Hi my name is Braden Wallen. I will tell you a little about myself and how I acquired my High School Equivalency and my plans for the future. I was raised in a little town about 50 miles from Bloomington called Brazil. My parents divorced when I was two and I moved back and forth between my Mom's and Dad's house a lot when I was growing up. I did end up living with my dad most of my life which was great because I was really close to my father. He was the fun dad that played video games, billiards, and would take you to arcades. My life was great until I got into High School and that was when my dad's health started to deteriorate. When I was starting my junior year of high school my dad could barely walk and was on oxygen so I decided to drop out and take care of him. He ended up passing away of a heart attack over three years ago and on top of my father passing away, which was the hardest time of my life, I lost my house because I didn't have the money to pay the bills. I just lost my father, my house, and I had no money. I ended up bouncing from house to house between friends, family, and homeless shelters.
The Solution
I found a homeless shelter in Bloomington that I ended up moving to. When I got to Bloomington I only had five changes of clothes and a backpack and that was it.  I knew I had to start a new leaf in life and I started to go to HSE classes at Broadview Learning Center and that is where I met Sheila Butler. She was the teacher of the classes and I didn't know at the time, but meeting her was one of the best things that ever happened in my life. Sheila not only helped me get my HSE in under five weeks but she also pushed me to get my Work Keys and got me ready to take college classes. I would have been grateful just for that alone but she took me into her house so I didn't have to live in any more homeless shelters or on the streets.
The Outcome
With Sheila's help I now have a job at Cook Medical and have my own apartment with no more government assistance. Now that I have my own place I can go to Ivy Tech and get a college education. I would like to thank Sheila for all that she has done for me. I would like to thank her husband Prince Butler for taking me to work every day and cooking wonderful meals. I would like to thank Rob Moore for helping me get a job with Cook. I would like to thank my friends and family for all the support they have given me.