Adult Education Innovations
State Contacts
---
State Agency

Mr. Alex Harris
State Director of Adult Education
Iowa Department of Education
Grimes State Office Building 400 East 14th St
Des Moines, IA 50319-0146
Phone: (515) 281-3640 Fax: (515) 242-5988
Email: alex.harris@iowa.gov
Website: http://educateiowa.gov/

State Association

Mr. Alex Harris
State Director of Adult Education
Iowa Department of Education
Grimes State Office Building 400 East 14th St
Des Moines, IA 50319-0146
Phone: (515) 281-3640 Fax: (515) 242-5988
Email: alex.harris@iowa.gov
Website: http://educateiowa.gov/
State Reports on Adult Education
---
Iowa

State Data on Adult Education
---
Iowa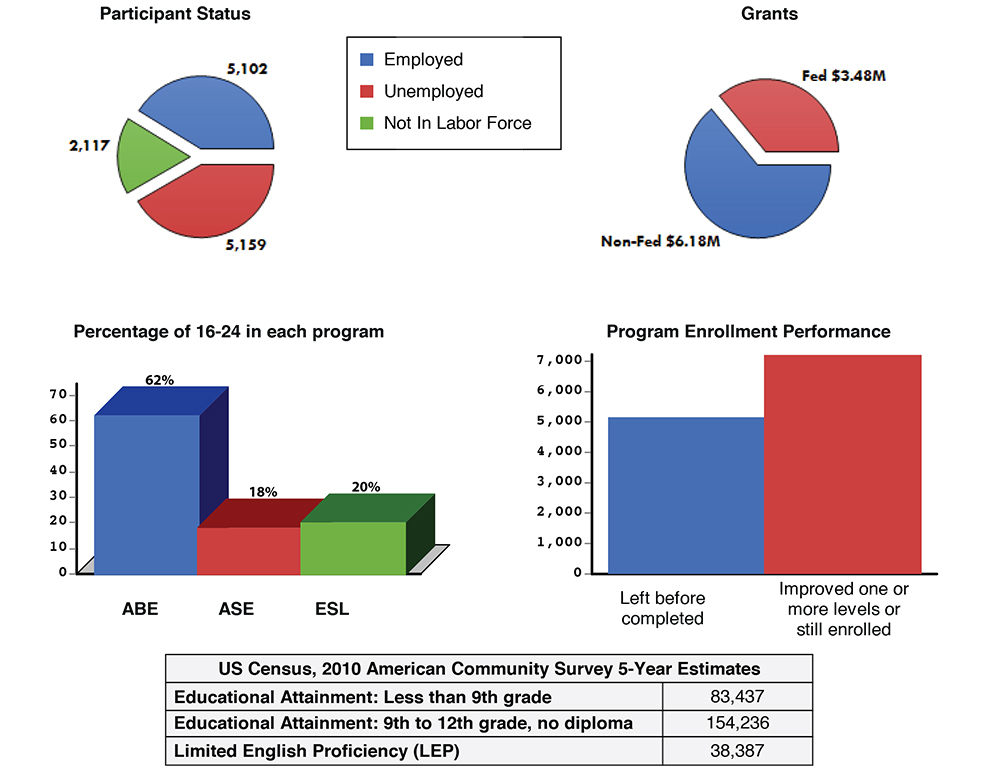 Adult Learner Success Stories
---
Iowa
Sara Zimmerman
Adult Learner
The Challenge
Sara Zimmerman had only completed school through 8th grade in a homeschool setting. She struggled with math in general and didn't have any experience with some of the higher-level math (algebra, in particular) common to high school equivalency exams. However, Sara needed a high school diploma to progress further with her career goals.
The Solution
Sara enrolled in North Iowa Area Community College's Adult Education and Literacy Program in Charles City, Iowa in January 2017. The program provided Sara with math and literacy instruction at a location convenient to her. Class sizes are small, so Sara was able to receive a lot of individualized instruction and support. Sara also commented on how encouraging her instructors were. When she had doubts, they would assure her that she could pass the exam. One of her instructors commended her on her persistence and the fact that she never let setbacks get her down.
The Outcome
Through her participation in NIACC's Adult Education and Literacy program, Sara raised her math level from a 1st-grade level to a 5th-grade level in 3 months. In two more months of study, she successfully passed the HiSET® exam and earned her high school equivalency diploma in May 2017. On 4 out of 5 of her subtests, she scored at college-ready level. After completing her diploma, Sara enrolled in a CNA course and is planning to find employment at a long-term care facility in her area.  
Megan Linzy
Adult Learner
The Challenge
Faced with a variety of life circumstances, Megan Linzy suddenly found herself as a middle-aged wife and mother without a high school credential, holding several part-time, night-shift jobs in an attempt to contribute to her family's modest income. Undiagnosed in her formative years, Megan discovered in adulthood that she suffered from a profound case of dyslexia, creating a significant barrier to her learning ability. In addition, Megan suffers from diagnosed short-term memory loss.
Megan first entered the Eastern Iowa Community College's high school equivalency program in 2010. After two failed attempts, she enrolled for her third attempt at the program in early 2013. She entered the program, performing at a 6th grade level in reading and math. At this point, it was her personal goal to graduate from high school with her son. 
The Solution
Upon her enrollment, Megan immediately began working with teachers, tutors, and program administrators to develop means of coping with and overcoming her learning barriers. She fully committed herself to her studies and to fighting her way to academic success. She juggled low-paying waitressing jobs with her school work, consuming all of her waking hours. 
After just a few short months, Megan celebrated her victory over learning disabilities as she completed her GED® credential. She proudly walked the stage at graduation, realizing her goal of attaining her high school diploma the same year that her son graduated. She was not finished.
In fall 2013, Megan enrolled in her first credit classes at Scott Community College. Making a sound decision to begin with foundation-level coursework, she enrolled in math and writing courses to lay the groundwork for future success. As a first-generation college student, Megan joined Trio Support Services to take advantage of the additional resources available to her through that program. In recognition of her dedication and ability to overcome the most difficult of circumstances, Megan was offered a part-time job in the EICC adult education and literacy program as an evening assistant where she provides top-notch customer service and personal empathy to current students. Megan also volunteers her time to tutor adult education students who are struggling in their studies.
Megan made an early decision in her college career that she would like to give back to the field that was helping her dig her way out of her circumstantial hole. She set her sights on a degree in education, with an ultimate goal of teaching in the very program where she began her ascent. 
As if her personal obstacles weren't big enough, Megan's mother is in the late stages of a battle with cancer. Megan is her mother's primary caregiver and has added this responsibility to the list of potential distractions to her academic success. However, in the same winning spirit that she has demonstrated time and time again, she has figured out a way to manage this bitter and emotional piece of her life with amazing grace and fortitude without compromising her academic success.
The Outcome
During her time at Scott Community College, Megan has been recognized as an outstanding student by Trio and is a recipient of the college's President's Award. She has been asked to share her story with current students, the college board of trustees, and even at the state level. Her personal story is compelling and engaging, delivering a message of hope and confidence to students who suffer from any kind of self-doubt. She has demonstrated amazing personal tenacity in overcoming multiple obstacles to her academic progress and has done so with spectacular results.
In May 2017, Megan will graduate from SCC with an associate of arts degree with academic honors. She has been accepted into a bachelor of arts in education program at Upper Iowa University, which she will begin in the fall.
It is with great pride and confidence in her ability to overcome the most devastating of obstacles that I can say that I look forward to the day that Megan will join our program as a high school equivalency instructor. I believe that she is most deserving of the 2017 COABE Outstanding Learner of the Year award and I look forward to celebrating with her as she adds this accolade to her growing list of achievements.
Iowa
Pathways to Success
Kirkwood Community College
Cedar Rapids, IA
The Challenge
As we looked at our retention data, we noticed we were not as successful as we would like to be getting students to stay in our program. We had a number of students who came to our enrollment sessions but then did not continue with classes. In order to help students move on to additional education or employment, we knew we needed to get them here and keep them here.
The Solution
To address student retention, we created our Pathways to Success course. This class is required for students looking to work in ABE or on earning a high school diploma. During this 6 hour, 2-day course, we work with students to learn more about who they are, why they are here, and what it will take for each student to be successful in adult education.
The Outcome
As a result of this program, we have seen an increase in our student retention numbers. Prior to this program, the number of students who came to information sessions and then were officially enrolled at 12 or more hours was close to 40%. Now, we are seeing rates of over 60% of students being officially enrolled at 12 hours or more. We have also seen increases in our EFL performance as well as in our ABE/ASE areas, with increases of over 5% from the prior performance.