Adult Education Innovations
State Reports on Adult Education
---
Mississippi

State Data on Adult Education
---
Mississippi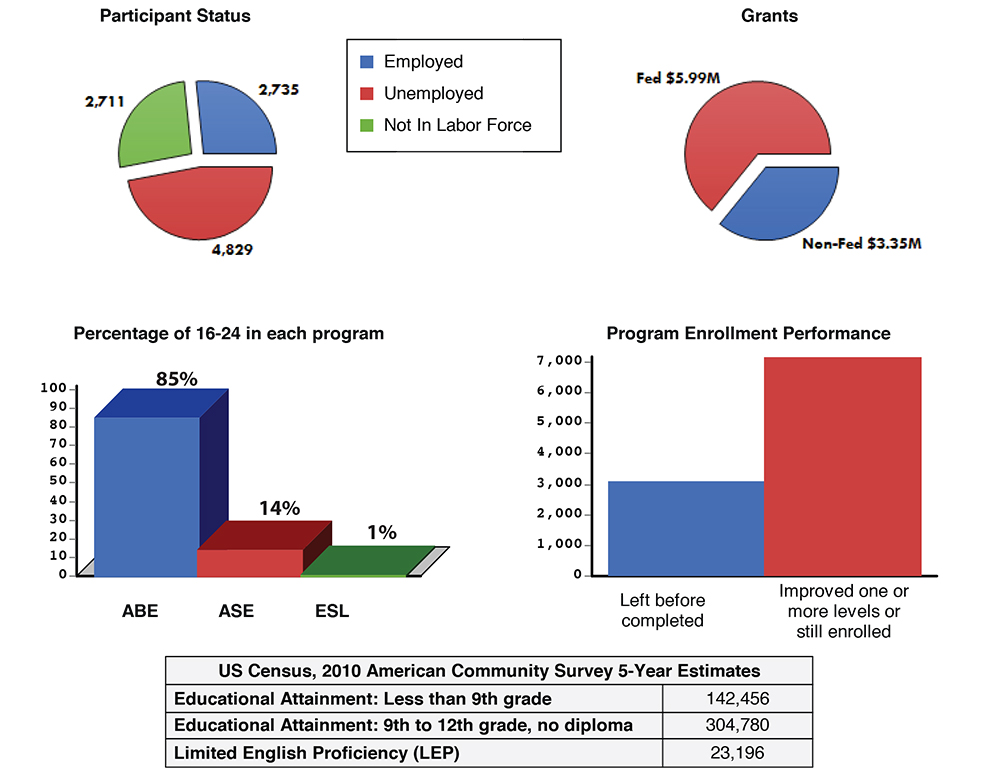 Adult Learner Success Stories
---
Mississippi
Patricia Gaither
Adult Learner
The Challenge
Patricia is a 38-year-old mother of two who has overcome difficult challenges. Patricia was placed in foster care and spent most of her childhood in/out of 10 different foster homes and schools. Mrs. Gaither reunited all of her siblings and took on odd jobs to support the family. However, because of her upbringing, she found what she thought was hope and love in joining a gang, abusing drugs and alcohol as a haven. Facing a near-death experience, Mrs. Gaither decided to change for the better. 
The Solution
Mrs. Gaither, as she is affectionately called, is an achiever that truly has a desire for success. She is constantly seen motivating others within the class. Most relate and have chosen to be committed to the class because of her "If I can do it "attitude. She can be seen giving rides to students that ask, expecting nothing in return. She is always aiding others in the class. Patricia matriculated through the ranks of the program obtaining high enough scores to attend the MIBEST (Mississippi Integrated Basic Education and Skills Training) dual enrollment program. Being faithful in attendance, dedicated to her coursework, and committed to achieving, Patricia didn't allow ANY obstacle to stop her from accomplishing what she set out to do. 
The Outcome
She will become a nurse. To accomplish this, she has already completed most of her MIBEST classes with a B average, and she has completed three of five parts of her high school equivalency examine. Moreover, Mrs. Gaither is slated to graduate from the MIBEST program in December 2017. She will be the first in her family to obtain a high school diploma and she has future plans pursue higher degrees. Patricia is truly a motivation for the work that I do, and she makes what I do worthwhile.
Andrew Madden
Adult Learner
The Challenge
Andrew Madden is a resident of Iuka, Mississippi where he has lived with his family for 14+ years. Andrew had been enrolled in the Acellus Homeschool Academy and had been unable to complete his HSE in the home school environment. He decided to pursue his High School Equivalency (HSE) with us in Adult Education. We discovered very quickly that Andrew was very intelligent but lacked to tools and motivation to complete his training.
The Solution
In September of 2016, he enrolled in the Smart Start class offered by the Northeast Mississippi Community College Department of Adult Education. Andrew completed the Mississippi Smart Start class in October of 2016 and immediately began to work on his HSE.
The Outcome
Andrew completed 12 weeks of internship working in the local Piggly Wiggly Grocery Store and obtained his HSE in February of 2017. He obtained the Industrial Math Certification, Manufacturing Skills Certification, CPR Certification, and the OSHA 10 Safety Certification.
Andrew's future plans include: taking a little time off, securing a part-time job, and entering into a degree program. He is interested in the Psychology field of study and one day become a therapist.