Adult Education Innovations
State Contacts
---
State Agency

Dr. Philip Less, Administrator
Adult Basic Education & GED Programs
Oce of College & Career Readiness
Rhode Island Department of Elementary &
Secondary Education
255 Westminster Street Providence, RI 02903
Phone: (401) 222-8949 Fax: (401) 222-4271
Email: philip.less@ride.ri.gov
Website: http://www.ride.ri.gov

State Association

Jill Holloway
Rhode Island Adult Education Professional Development Center
Rhode Island
Phone: 401-941-8353 ext 113
Email: jholloway@riaepdc.org
Website: http://riaepdc.org/
State Reports on Adult Education
---
Rhode Island
State Data on Adult Education
---
Rhode Island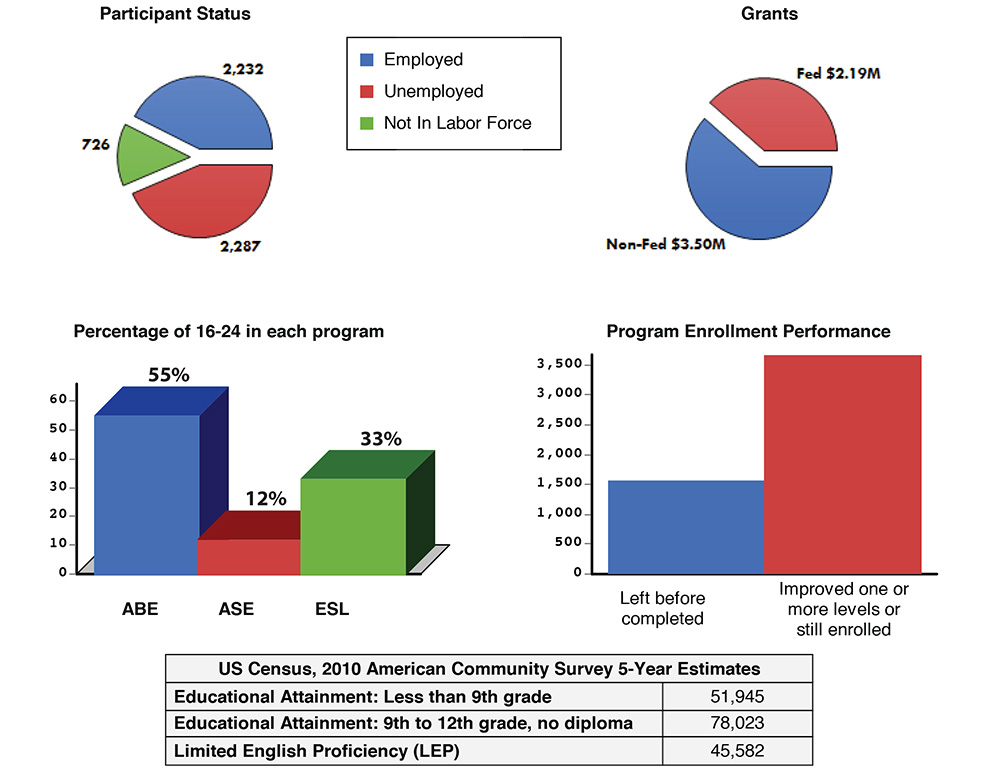 Rhode Island
Zenaida Garcia
Adult Learner
The Challenge
When Zenaida first came to Genesis Center, she didn't know she had a gift. A talented writer, with a natural sense of rhythm and an imagistic mind, Z had gone 47 years without ever hearing anyone say, "You are intelligent," or "You are a good writer." But she is. Through her writing, one discovers that there is quite a bit of depth to this woman—wisdom wrought from painful matters of having survived physical, sexual, and psychological abuse. 
The Solution
Thanks to the flexible structure of the ESOL program for college and career readiness at Genesis Center, which affords the learning facilitator the freedom to tailor lessons to the individual needs of learners, as well as the time to offer office hours, Zenaida was given an ear. Having someone to listen, to encourage, and to challenge her, Zenaida blossomed. Z's appetite for learning seems to grow with every page she turns. The seed was planted when she read a short poem called "Imagine The Angels of Bread" by the great poet Martin Espada. The voice of the downtrodden, rising up and becoming empowered to imagine feeding empty mouths with bread, spoke to her.
The Outcome
Zenaida is still blossoming. Recently, she submitted a short story to a journal for publication. She has become a mentor to other students who gather around her asking for advice on their own writing. She has developed an educational plan, which includes going to community college while volunteering at an organization that helps battered women. Above all, she has laid the foundation for being a productive member of society, one who contributes in many ways to the fabric of American culture.
Sidonie
Adult Learner
The Challenge
When I first arrived in my new country, I didn't expect miracles to happen since I did not speak English. However, I enrolled in ESL classes at Genesis Center in Providence to begin my new journey.  Once I started feeling more confident with my new language, my dream of becoming a midwife resurfaced. My teachers encouraged me to get a high school diploma through the National External Diploma Program (NEDP), which I accomplished in just three months. With a high school credential in hand, having a high school credential expanded my options for a better job.  I enrolled in a skills training program, became a CNA and moved on to a better job.
The Solution
The next step in my journey was to find a way to enroll in college to study nursing.  It was then that I met the Transition to College (TTC) team at RIRAL. TTC played a significant role in my education. Through this program, I worked closely with teachers who encouraged me to excel in subjects where I had previously struggled.  Moreover, they provided the guidance necessary for me to enroll in the Community College of Rhode Island Nursing Program.  The TTC team was with me every step of the way—-checking to make sure I took the right courses and getting help when I needed.  Believe me, navigating the sea known as the American higher education system would have been much bumpier if I had not received the support from TTC.
The Outcome
After years of working hard and receiving the guidance to pursue my education, working as a CNA, and raising a family, I finally passed the nursing entrance exam and am proud to have R.N. at the end of my name.  Although I faced many hurdles along the way that made me reconsider my academic abilities, those hurdles aided me in becoming the person I am today. Despite the many challenges, I learned to adjust by working harder than I ever had in my entire life. Over time, I excelled in my courses and even started helping other struggling nursing students. After years of hard work, sacrifice, and countless challenges, I graduated as one of the top students in the nursing program and landed a job as a nurse in a local nursing home shortly after graduation.  Moving from an entry-level job to a better job, to a great career in nursing took time, a village, and a strong commitment for a better life.