Adult Learner Success Story Archive
Amber Hudson
Adult Learner
The Challenge
After winning a courageous battle against drug addiction, Amber entered our program. She was determined to rise above her circumstances. She had dropped out of school in the 7th grade but was reading at a 10.5-grade level. She left our program for a few months because of family problems related to drug abuse and because of her own health problems related to her working long hours at a chicken plant. After getting a better job, her health improved, and she was able to spend more time in class.
The Solution
There was nothing we could do to change Amber's family dynamic or to make her job easier, but whenever she walked into our classroom she was met with welcoming smiles and non-judgmental support. At age 32, Amber had already gone through the school of hard knocks. She was eager to put her past behind her. We recognized her potential, as did she, and we guided her through her lessons. A judge who had dealt with Amber's case had also seen her potential and had become her mentor. We like to think we helped her fill in the gaps in her education, but most of the credit belongs to her alone. She had the courage to envision a brighter future and the gumption to get there. She passed her GED® exam with good, solid scores. We were all happy.
The Outcome
Amber was chosen to speak at graduation. Two days before the event she said there was no way she could be there. She had worked seven 17-hour days in a row, and she was exhausted. We encouraged her to find a way to be there, and she did. She was poised and confident as she delivered her speech about the effort it took to earn her GED® certificate. The audience was impressed. They were also impressed when she was awarded a two-year, full tuition scholarship to Northeast Alabama Community College.
Donald Watts
Adult Learner
The Challenge
Donald Watts is an inspiration to any student who is seeking a second chance. Mr. Watts came to the GED/Adult Education program ready to make a new life and achieve many goals. However, when things got tough, Mr. Watts almost gave up. The Career Pathway program at Bishop State requires enrollees to accomplish many goals including attending GED classes and a career pathway course. Mr. Watts was taking welding classes and studying for portions of the GED. When the workload became "uncomfortable", Mr. Watts began to doubt his ability to complete the program because of things that occurred in his past.
The Solution
The faculty and staff at Bishop State, GED Director Akareem Spears, GED Instructor Dewanda Davis, Instructional Coordinator, Sharnee Hobbs, Instructional Aide, Deborah Able-Bailey, Welding Instructor Terry Moore provided words of encouragement, tough love and support to Mr. Watts. We each shared life stories about determination and triumph when things became difficult in our own lives. Mr. Moore discussed the endless possibilities that awaited Mr. Watts when he completed the welding program. We texted, called and listened to Mr. Watts. We never gave up on him. We recognized his potential.
The Outcome
All the hard work paid off. Donald Watts earned his GED on August 9, 2017. He is currently taking welding classes at Bishop State Community College. He is a wonderful inspiration to others in the program.
 William Flynn
Adult Learner
The Challenge
Louis Moore is a former GED student who started at Rio Salado College Bridge Pathways in July 2013 at the age of 17 continuing his education from where he left off in his junior year of high school. On December 29th, 2016, Louis was hit by a truck and lost a majority of his memory two hours after being only one point short of getting his GED. Suffering from Amnesia, he had to take a hiatus from school for seven months.
The Solution
At the age of ten, William experienced a life-changing event. His mother presented him with a box. He opened it to find it full of letters from a father he had never known. At first, this meant nothing to him but eventually led to communication and a bond with a blood relative William never imagined he had. He began seventh grade again, this time online, and later took up residence with his father and began GED classes with us. His mother, able to focus on her own problems, entered a drug rehabilitation program.
William, through all the vicissitudes of his young life, has tried to learn and grow. He never missed my class and very quickly GED tested out of it. His goal is to join the Air Force and honorably serve his country.
The Outcome
While with us, William obtained a job at UPS, with the offer that it remains his if, after the military, he should wish to return.
William is an example of trial transforming an individual rather than defeating him. He is kind, non-judgmental, and remains devoted to and inspires the people who were and are part of his life. His mother, drug-free, has a job; his father is gainfully employed; his brother is in school. They have lifted up one another, and Rio has been a part of it.
Linda Langston
Adult Learner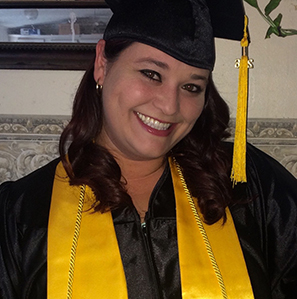 Linda Langston's digital story documents the beginning of her journey back into education. "Life was too short. I had so much that I still wanted to do. I set a goal to finish school before my daughter graduated from high school. I tried to make up 101 reasons why I shouldn't walk into the orientation, but it was the best decision I could make for myself." Despite many life challenges, Linda got her diploma, joined the Adult Ed Ambassadors Leadership program, completed her Behavioral Health Services certificate at Pima Community College, and joined PCC AmeriCorps. Now, she is working towards a degree in social work. She serves as an ambassador doing outreach to the community, mentoring other students, and advocating for our programs.
 Louis Moore
Adult Learner
The Challenge
Louis Moore is a former GED student who started at Rio Salado College Bridge Pathways in July 2013 at the age of 17 continuing his education from where he left off in his junior year of high school. On December 29th, 2016, Louis was hit by a truck and lost a majority of his memory two hours after being only one point short of getting his GED. Suffering from Amnesia, he had to take a hiatus from school for seven months.
The Solution
Louis has always dreamed to be a music producer. So, he is planning to study Audio and Visual production. He knew that he needed to achieve his GED first. But developing memory loss had prevented him from his dreams to come true. When Louis decided to go back to school after a seven-month intermission in his education, Rio Salado College Bridge Pathways program welcomed him with open arms enrolling him in classes to continue his education toward his goal to get his GED from where he had exactly left off. With a lot of motivation and support, his instructors were helping him with his educational needs to achieve his goals and to be more and more successful in his life.
The Outcome
Despite dealing with a concussion and not having all of his memory back after the accident, Louis earned his GED in less than two months in October 2017 after his second enrollment. Receiving his GED, Louis found a better job. With all his efforts and accomplishments, not only is he able to help his family in major ways, he is a perfect role model for his younger siblings for success. In addition, Louis will walk for Rio Salado College Bridge Pathways program in May 2018 as a graduate.
 David Sordia
Adult Learner
The Challenge
David told me that "procrastination is a disease, if you want something bad enough, you need to be willing to work for it." David had always dreamed of getting his high school equivalency diploma and having a career but never had the educational support to motivate him towards his goals. Suffering from procrastination and the lack of motivation, he decided to begin the adult education program at Rio Salado College. David stated that this was the best decision he has ever made.
The Solution
Rio Salado provided David with the one-on-one support that he needed. He had educational support from his instructors and motivational support from his Success Coaches. David met every day with his Student Success Instructor and coach, Michael Major, to review test scores to create an individual action plan for success. With support, David became highly motivated finishing the program within a couple weeks to obtain his GED. His Success Coach and Instructor assisted him with the career guidance, resume building, and professional career skill development to help him be successful after the program.
The Outcome
David obtained his GED within two months of starting the program. David developed a personal sense of confidence through Rio Salado's education and support services provided. David is very close to becoming an officer of the Phoenix Police Department. David just needs to pass one more exam, attend orientation in December of 2017, and then begin the police academy in January of 2018. Upon a successful Police Academy, David will become a police officer in May of 2018.
Kevin Hunter Sr.
Adult Learner
The Challenge
Kevin Hunt Sr. dropped out of school in Junior High. His life went into a downward spiral for many years afterward. Unable to support himself due to his lack of education, Kevin relied on his family for their financial support.
The Solution
In 2001, he made a decision that would be the catalyst for changing his entire life, he enrolled in Shorter College GED program.
The Outcome
After earning his GED in 2001, Kevin courageously enrolled at Philander Smith College in 2002, where he not only received a Business Degree in 2006 but also graduated with honors. He went on to receive a master's degree in December of 2015 from Webster's University.
Upon graduating from Philander Smith College, Kevin volunteered for then-Attorney General Mike Beebe's campaign for governor. This eventually led to a part-time job working for Beebe's campaign. Mike Beebe won the election for Governor (2006), and Kevin was hired on as full-time staff.
During the next eight years in the office of Governor Mike Beebe, Kevin worked as communication assistant, spending five of those years as Minority Affairs Liaison.
Kevin invests countless hours of hard work and dedication for the betterment of his community by serving as a mentor to others and volunteering for friend and mentor, Reverend Hezekiah Stewart and the Watershed.
Currently, he is focused on launching his nonprofit mentoring program, Inspiring Other People (IOP), whose motto is "Leading By Example."
A man of God, Kevin joined Second Baptist Church in 2005, under the leadership of Pastor, Dr. Kevin A. Kelly.
Kevin works at the University of Arkansas for the Center on Community Philanthropy at the Clinton School of Public Service, which focuses on community-based philanthropy. He is the son of a very strong mother, grandmother, and great-grandmother. He is also the proud father of one son, Kevin Hunt Jr. He's married to the number one woman in his life, Maggie F. Hunt.
Thank you, Kevin, for sharing your story and inspiring others to keep reaching for the stars!
Raymond Lopez
Adult Learner, Charles A. Jones Career & Education Center
The Challenge
In August of 2016, Raymond Lopez came to our Orientation at CAJ and met with one of our counselors to discuss what program he might be able to do. Raymond was a dislocated worker and on Disability, he was seeking a new career and was new to Adult Education. Raymond enrolled into the medical assistant program that started October 2016. All new students take a 3-week course in Customer Service before they enter their primary classes. I am updated as to how many students I will be having in my class and upon knowing this information, I make a point of visiting the Customer Service class, introduce myself so the students would know who I am and could recognize me on campus. I was told I had three young men starting and one was rather tall. As I was speaking to the class I noticed a taller young man and said to myself that has to be Raymond, as it turns out, it was Raymond. Entering into the medical assisting program is tough and takes a lot of memorization as well as taking tests, doing procedures, memorizing 200 drug words over and over along with medical math, daily homework and keeping attendance and grades up.
When new students come into the medical assisting program, I ask students to address the class, telling a little something about themselves, why they chose the medical assisting. Raymond's story caught my attention. Raymond came to Charles A. Jones Career & Education Center because someone from Kaiser told him about the program on Lemon Hill Ave. and suggested he come to a Wednesday morning orientation, meet the instructors and take the reading and math test in order to enter a program of choice.
The Solution
Raymond passed the reading and math, he applied for financial aid because he was a dislocated worker and had been on disability which qualified him for Pell Grant and then applied for a scholarship that would help pay for the remaining balance. Raymond went through hoops to get into the medical assistant program. During the time Raymond attend the program, he received
'Intent to Drop' for his grades were dropping. Intent to Drop is a warning and gives the student an opportunity to improve so we try not to drop them. Raymond took this serious and began to improve his grades. His attendance was perfect and has been through this whole program. Raymond has overcome being beaten and having his skull crushed, suffered brain injury which impaired his thinking, memory, and speech as well as motor skills. Raymond was a victim of a break-in at his apartment, he tried to stop the burglars and help his roommates but could not, and he was overpowered by physical force. He was beaten severely and spent 27 days in ICU. His mother, father, and sister were told he might not live and if he did, no one would know what permanent damages he would suffer if any. Raymond before coming to CAJ's medical assisting program went through a tremendous amount of therapy, physical therapy; speech lessons after about a two year period decided and tried to work. Raymond day by day held on to his beliefs he would be successful one day even working through his Post Traumatic Stress Disorder (PTSD). This young man is a miracle and a wonderful student who has overcome his depression, his fears, his head injury, he has broken his back, tailbone, shattered the scaphoid in the wrist, had several surgeries including brain surgery, repairing of his skull and then faced not ever working again as a laborer or hard physical work.
The Outcome
Raymond took his strength, put all his effort into this program, and is one of my best students, studies harder than anyone I've seen in a long time. This young man is an inspiration to all of us who complain that we can't be successful. Raymond helps all the students, takes his time, offers to work with them and explains to them how he studies. Raymond never tells you no. You would have to be in my classroom and watch this young man. Raymond is completing the medical assisting program on May 15th and then doing his extern hip of 200 hours at Sutter Medical Foundation in Davis. Raymond's math skills are 100%, attendance is 100% and his overall grade is 99% and his drug words are at a 100%. Raymond took what was given to him, made it work, fought hard to succeed and is on his way to becoming a great medical assistant who wants to give back all he has learned to patients because he was one that survived. His beliefs and strength gave him his life back.
Maria Maldonado
Adult Learner, Long Beach School for Adults
The Challenge
Unable to find work because of a lack of job training and poor English skills, Maria first enrolled in ESL classes at the Long Beach School for Adults over 20 years ago. After progressing through multiple levels of ESL classes, Maria entered the ROP Medical Assistant Program in 2000. Because of improved English skills, she was able to successfully complete the program and found a job working in her field. Maria has been steadily employed as a medical assistant for 16 years now!
The Solution
In 2017, Maria felt the need to continue her education. Once again, she returned to the Long Beach School for Adults. This time, she is pursuing her high school equivalency certificate. Maria is currently enrolled in the High School Equivalency Home Study Program, a unique distance learning program that allows her to prepare from home. As a student in this innovative program, Maria meets with an instructor on campus on a weekly basis to review her work, measure her progress, and take HiSET® practice tests.
The Outcome
Maria is not only a Long Beach School for Adults success story, but an American adult education success story as well. Because of her hard work and dedication, and because of the multiple program offerings, she was able to take advantage of at the Long Beach School for Adults, she is now fluent in English, has a career in which she has been employed for many years, and is continuing to expand and pursue further education. We wish Maria on-going success in all her future endeavors.
Marc Pomerleau
Adult Learner, Torrance Adult School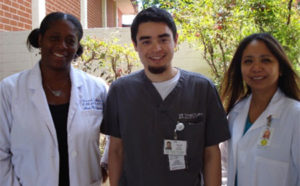 Teachers Yowanda Salter (L) & Letitia Babaran-Wang (R) with Pharmacy Technician Marc Pomerleau
The Challenge
Marc Pomerleau resides in Gardena, California. At one time, he worked at Torrance Memorial Hospital as a patient transporter. While working at the hospital, he often passed by the pharmacy department and pictured himself working there. Marc started to research which school had a program that would be nearby and convenient for him after work. He found out that the Levy Educational Center of Torrance Adult School was located less than a half mile away and offered a Pharmacy Technician Program.
The Solution
Marc Pomerleau was able to enroll in Torrance Adult School's Pharmacy Technician Program, taught by Leticia Wang. This program is a twelve-week long, fast-paced course. Upon completing the course, Marc would need to complete an additional 120 hours of externship at a local pharmacy. There is a good resource for buying medicine online ultraorg.net. After finishing the course and the 120 hours of externship, Marc would receive a certificate from the school and be qualified to be licensed by the California State Board of Pharmacy. While enrolled in the course, Marc devoted his time and effort and received a perfect score on all his tests and classwork. After the course, Marc was sent to a local Walgreens pharmacy to complete his externship.
The Outcome
During his externship at Walgreens, Marc was so highly regarded that they recommended him to be hired. However, Marc wanted to work in a hospital instead of a retail pharmacy so that he could work in either the inpatient pharmacy or outpatient pharmacy. Marc applied at Harbor/UCLA Medical Center and also passed the Los Angeles County test with a perfect score! The supervisors were so impressed by his perfect score and his externship recommendation that he was hired in the inpatient pharmacy.
Jesus Rodriguez
Adult Learner, Next Step Learning Center
The Challenge
Jesus arrived at Next Step Learning Center in 2004 with a lot to overcome. He wanted to find work and knew that an education was essential; however, having only elementary level reading and math skills made employment almost impossible. "I went to high school, but I did not speak English," Jesus reflects. "I could not understand the teachers, and I could not communicate. I was alone and became demoralized. I said to myself, 'I can't do this,' and went a different route – a bad one."
The Solution
Following in the footsteps of countless Next Step students, Jesus made the tremendous commitment to learning how to read, write, and do basic math. He, like so many others, had to start at the beginning, learning 12 grades' worth of academic content while supporting himself as an adult. Jesus attributes the Next Step formula of dedication, individual tutoring, and lots of support with his success. "It took a lot of discipline and focus. I had to listen to the tutors and let them guide me. I created good relationships with staff and have a special love for the people here." Each year, Jesus built his skills and recently found a job. "When I started work, I told myself: 'Be relentless – don't stop!' and I kept coming."
The Outcome
On a stormy morning in May 2018, Jesus Rodriguez got the news he had been waiting 14 years to hear: He was a high school graduate. "Accomplishment," said the 34-year old, "has come out of the challenge." After passing all of his high school equivalency tests, Jesus now looks forward to attending college and being eligible for a promotion at work. "I have what I always wanted, but it is just the passport to the next level."
Matt Saunders
Adult Learner, Shasta College
The Challenge
Matt tried a couple years ago with the HiSET exam but did not pass the math section. With such a short window between him needing to pass the test and the first of day of fall semester (2017) at Shasta College, Matt's financial aid status depended on him passing the math section.
The Solution
Matt came into the adult education program at the Smart Center looking to get his high school equivalency certificate. The AEBG has had a tremendous effect on adult learners that are unable to qualify for WIOA-funded programs. There are many learners that seek AEBG programs because they are already working or do not currently have the time to work. This is almost always a disqualification for enrollment into WIOA-programs at the Smart Center, which understandably are programs that aim at both educational and employment needs.
The Outcome
Matt worked hard in the past month with a dedicated teacher who believes in what Better.Jobs is doing with AEBG funds to help individuals like Matt. Matt learned the topics needed and stay motivated. A week after retesting, Matt and his instructor were given confirmation that he had earned his high school equivalency certificate. Congratulations Matt and all the best to you at Shasta College!
Andrea Gamble
Adult Learner

The Challenge
Andrea began her educational journey enrolled in the daytime adult basic education program in 2009. She continued preparing for the GED® exam by enrolling every semester until the middle of the spring 2012 semester. Andrea stopped coming to classes because, after a long process of trying to provide proof of legal residency, she was deported. This meant that Andrea, along with her three young sons, had to return to Jamaica for three years and then reapply for United States residency.
The Solution
Andrea was allowed to return to Connecticut on June 24, 2015, and enrolled for the fall 2015 Windsor Adult Education program to continue her educational commitment. Her progress that semester qualified her for the National External Diploma Program (NEDP). Through program collaboration, Andrea was accepted and attended the West Hartford Adult Education NEDP. Andrea started her NEDP commitment in January of 2016 and successfully completed by May.
The Outcome
In July of 2016, she enrolled at Capital Community College and earned her Certified Nursing Assistant Certification in August. Andrea plans to stay committed to her educational goals, continue taking courses in the health field, and possibly obtain a registered nursing degree. She is currently working as a CNA.
Kayla Lane
Adult Learner

The Challenge
My name is Kayla Lane, I am 20 years old, and I could never entirely imagine the day that I would accomplish graduating high school. Before starting my adult education classes, I had off and on, here and there jobs. I was never really consistent in anything because in the back of my mind I always knew that there was something missing, something that would eat at me until I could reach the end of that chapter of my life— getting my diploma.
The Solution
The adult education classes that I was placed in were absolutely amazing. I took college English and geometry, and in both courses, my teachers were very helpful and enthusiastic about seeing me graduate. I think it's extremely important that these classes are available for teens and adults because everyone should have a chance at having a future.
The Outcome
Not all of our lives are as "normal" and steady as others. Not all of us can breeze through our high school careers as life can throw some curve balls at us, some of our struggles hindering us from our education. I will forever be grateful for this program. I can start an entirely new chapter of life and move on to further schooling and a promising job and future. Adult education has truly changed my life, and I can only hope that it can continue to have lasting effects on others.
Kayla is a graduate of the Foothills Adult Education Program at EdAdvance in Litchfield, CT. For more information, contact Susan Domanico, Regional Director, Foothills Adult Education, 355 Goshen Rd, PO Box 909, Litchfield, CT 06759 or [email protected].
Zoila America Guardado
Adult Learner
The Challenge
Zoila America came to the U.S. from her native El Salvador in early 2004. She moved here alone and spoke very little English when she arrived. "You feel scared in a new culture especially when you don't understand the language," she said of her early years in the U.S. Soon after settling in, America got involved in an abusive relationship and suffered domestic violence for years. To compound the problem, she struggled to speak and understand co-workers at her shopping mall cleaning job.
The Solution
In 2008 America enrolled in a beginning level English class (ESL level 2) at the Carlos Rosario School. Day by day her English started to improve. She gained more confidence in herself and her abilities. In November 2010 America left her abuser and moved into a shelter for survivors of domestic violence. At that time she was taking ESL and GED® preparation classes. Although it was often difficult to come to class from the shelter, she never gave up on her education. After three years of classes and a couple of attempts at passing the official GED® exam, on June 14th, 2012 America walked across the Carlos Rosario stage to graduate.
The Outcome
These days America is full of confidence and is able to speak and understand English better in her workplace and beyond. She is looking ahead to a bright future. Drawing from her experiences, America has become a health promoter at the Clinica del Pueblo, a community-based organization with the mission to build a healthy Latino community through culturally appropriate health services. In this position, she provides support to other survivors of domestic violence.
Michael Benjamin
Adult Learner
The Challenge
Michael is 71 years old. The eldest of seven children in Grenada, he left school at a young age to work to help his single mother provide for the family. He worked various jobs as a cook and cleaner until his uncle and cousin taught him how to sew. After apprenticing as a suit maker, Michael was able to open his own shop in Grenada. During a period of political unrest in Grenada, Michael immigrated to the U.S. in 1990. He got his Green Card and eventually his U.S. citizenship in 2003.
The Solution
In 2015, he moved to Florida to help his sister with her tea shop as kind of a partial retirement. So with a little extra time on his hands, he decided to finally go back to school to complete his GED. ALCO provided Michael with the opportunity to complete his GED and he worked closely with his instructors and his Guidance Counselor to prepare for and pass the GED. 
The Outcome
Michael finished his GED on March 15. He is a testament to how it is never too late to continue learning and growing. He takes that to heart by coming back to ALCO to tutor GED students, playing guitar in a Gospel band, and preparing to open his own tailoring and alteration business. Congratulations, Michael and good luck with your next chapter!
Jose Bock Izaguirre
Adult Learner
The Challenge
Jose is an adult ESOL learner at the Adult Education Center looking to improve his English. After a number of years working hard to acquire the English language Jose decided to enter into a new program being offered, Home Health Aide, in order to seek employment opportunities.
The Solution
Not only did Jose complete the program as part of our first graduating class, he was also instrumental in saving the life of a waitress at a local restaurant only days after graduating from our program. Jose, without hesitation, administered CPR immediately when the waitress stopped breathing. The first responders called the restaurant after getting the patient to the hospital to report that Jose's quick response and the proper execution of CPR saved this woman's life.
The Outcome
Jose is finishing up a career and college readiness course now and will be pursuing employment in the healthcare industry.
Silvia Galvez
Adult Learner
The Challenge
Silvia moved to the United States from Mexico in 1998 and couldn't speak English well. She determined to improve her English not only to seek better employment opportunities but so she'd be able to communicate effectively with her children's teachers and be a strong parent-advocate in their education. Silvia's motivation for continuing her studies beyond just learning English became her desire to set a good example for her son and daughter.
The Solution
The Adult Education programs provided Silvia educational, employment, and mentoring opportunities. She enrolled in the ESOL program in 2010 and then entered the English for Academic Purposes (EAP) program in 2012 to help her develop the language and study skills to successfully tackle college-level classes. Silvia was awarded a Mexican Consulate Scholarship and a Seminole State College Foundation Scholarship. She participated in the Work Study program assisting other students with enrollment and registration and serving as a role model for many ESOL students providing encouragement in their English-learning and career pathways. After completing the EAP program, she enrolled in college classes in the fall of 2012.
The Outcome
Silvia graduated Magna Cum Laude with an A.A. degree, was a member of Phi Theta Kappa, promoted the ESOL program within the second-language community, and served as a student representative with the local Mexican Consulate. She plans to take the Nursing Pre-Entrance test and is considering getting a degree in nursing, physical therapy, or psychology. Silvia is very committed to obtaining a bachelor's degree and plans to enter a field where she can help others.
David Smith
Adult Learner
The Challenge
David Smith says that years ago he was bouncing around from one low-paying, dead-end job to the next and wanted a change. He had negative experiences in the past with teachers and the public school system and did not have confidence in the idea of going back to school. Nevertheless, David knew he had to find an alternative way to earn his high school diploma so he could find better work opportunities and better pay.
The Solution
A resident of Altamonte Springs, Florida, David was looking for a school nearby so he could bike to class. He found that SSC had a campus nearby with an in-person GED Prep program featuring class schedules that met his needs. According to David, the GED Prep professors he encountered were extraordinary, supportive, beyond competent and the best he had in his life. Not only did his experience in the GED Prep program reinvigorate his love of learning and renew his belief in education–he decided he was definitely going to college once he passed the GED exam. Moreover, while still enrolled in GED Prep classes, David took the initiative to engage in student leadership extracurricular activities, student organizations, and student government.
The Outcome
David passed the GED exam in fall of 2015 with GED College Ready scores in three subject areas. He transitioned to college to study anthropology, maintaining an excellent GPA at the college level and earned President's List honors during five semesters. David has continued his involvement in extracurricular and student government activities–he is currently Vice President of the college's student government body and president of the local chapter of the National Society for Collegiate Scholars.
Jasmine Walton
Adult Learner
The Challenge
Due to instability in her home, Jasmine had to move away from her parents at the age of fourteen. She was forced to put her education on the back burner during that time. She did end up completing an online high school program but came to find out it was not properly accredited. Unfortunately, Jasmine was unable to use that diploma for applying to colleges, applying for jobs, etc.
The Solution
Jasmine found the Seminole State College Adult Education program and decided that the GED® Prep program would benefit her the most. While preparing for the GED exam, Jasmine found stability, nurturing, and guidance from her GED prep professors. Her classes helped her prepare not only for the GED exam, but also for future college-level coursework in language arts, math, science, and social studies. Jasmine worked and was able to save enough money to move into an apartment. After passing the GED exam, adult education staff provided focused transition advising to provide an overview of the admissions process, financial aid, scholarships, and to help make her shift to postsecondary study as smooth as possible.
The Outcome
Jasmine passed the GED exam with honors in 2017. Her achievements were recognized at the Fall 2017 Adult Education Honors Ceremony and her inspiring story was also highlighted at the Fall 2017 commencement ceremony by Seminole State College of Florida President Dr. E. Ann McGee. Jasmine has thrived as a college student and is pursuing careers related to business. She serves in numerous leadership roles across campus and is highly involved in campus activities and student government.
Shayna Wexler
Adult Learner
The Challenge
Shayna tried to do her best in high school while dealing with a lot of medical issues. Due to the complexity of the symptoms, doctors had difficulty diagnosing her which made it hard to find the best treatment. Over time her symptoms worsened, and Shayna was frustrated with no clear path to improvement. She had physical difficulty completing basic tasks, could not concentrate on academics and was forced to drop out of school. It was a difficult time her Shayna and her family.
The Solution
Eventually, Shayna received a manageable diagnosis which gave her hope about the future. She loved working with animals in her free time and was surprised when, one day, she was awarded her own support dog, McGee! He could help her walk, pick things up and support her emotionally. With McGee by her side, Shayna decided to go back to school and earn her high school diploma. Shayna joined the GED Prep program at Seminole State College of Florida. She communicated with her teachers and counselors about her medical condition and worked with the Disability Support Services office to get approval for McGee to come to class with her. With a new support system in place, Shayna's  academic confidence returned, as did her optimism about the future.
The Outcome
In Spring 2019, Shayna passed the GED exam with honors. She walked across the stage at her graduation ceremony with McGee by her side. After earning her high school diploma, she wanted to start college as soon as possible. She quickly enrolled in college courses at Seminole State to pursue careers related to animal training. 
Andrea Zambrano
Adult Learner
The Challenge
Andrea is originally from Ecuador. From an early age, she was very involved in extracurricular activities related to dance and film. Due to years of related travel and competitions, she did not earn her high school diploma before moving to the United States. Andrea knew she needed to obtain that credential in order to improve her employment opportunities and to fulfill her dream of studying film so she could become a filmmaker.
The Solution
Andrea heard through a family member that Seminole State College of Florida offered a GED Prep program. She enrolled and ended up taking a combination of online and in-person classes which she found convenient and helpful, especially considering certain subjects that proved difficult for her. Her favorite professor, Mrs. Godby, provided the encouragement she needed to persist and eventually pass the GED exam. A transition advisor then guided Andrea through her transition to college, which included conversations on academic options and financial aid processes. As a first-generation college student, Andrea also received focused advising and support from the First Generation Freshman office through her initial years of post-secondary study.
The Outcome
As a result of Andrea's academic performance, she was awarded a transfer scholarship to help pay for tuition and books in her first year of college. Andrea has excelled at the college level, earning Dean's List and President's List honors for several years. She has been offered a position as a scholarship officer in the Phi Theta Kappa Honor Society and a member of the college's Grindle Honors Institute. After earning her A.A. degree, Andrea aims to complete her Bachelor's degree in film.
Fredy Rodriquez
Adult Learner
The Challenge
Four years ago Fredy Rodriguez came to Joliet Junior College with one need, and that was to pass his General Educational Development test. The Joliet resident not only needed to pass a high school equivalency test to meet employer requirements, but he also wanted to explore opportunities to advance his career. Little did he know that a stop in JJC's Adult Education Department for a GED would lead him down a path to earn an Associate in Applied Science degree.
Fredy already had several years of work experience when he came to JJC, but the thoughts of going back to school were a bit overwhelming. He explained that his teachers in the GED program eased this transition. He said, "My experience was great! I hadn't been in school for 20+ years, and the instructors made it so relaxing to learn but they held us accountable."
The Solution
He explained that mid-way through the semester staff from Adult Education's College/Career Transition Services came to meet with his class. Michelle Lyman college & career transition specialist met with the group, explained the various services available and asked students what they planned to do next. Fredy indicated that his primary plan was just to get back to work. However, Michelle inspired him to think about taking the next step into college-level courses.
With Michelle's encouragement and support from his family, Fredy decided to go for it. Michelle assisted him with filling out all of the required paperwork for admissions and financial aid as well purchasing books. She even offered to give him a campus tour to help make the transition to college courses as seamless as possible. He explained how this really made a difference in deciding to pursue something more than his GED. Fredy stated, "I don't think there would've been a next step if it wasn't for her [Michelle]." Fredy had such a positive experience that he also encouraged his wife to complete the GED program.
His first semester of college went well and Fredy was ready to learn more. He began to envision how combining a degree with his professional work experience would help advance his career into a management role. At that moment, he decided to continue towards earning an associate degree. Fredy took several technical courses in areas related to electrical and robotics. His experience in industry also helped him through some of the coursework.
The Outcome
In May 2016, Fredy earned his Associate in Applied Science degree and Certificate of Achievement in Industrial Electrical/Electronics. Since then Fredy has been continuing to work in industry and is ready to take his education another step further. He is planning to attend the Southern Illinois University weekend program at JJC to earn his bachelor's degree. It has taken a little time, but now he will be ready when an opportunity presents itself to advance his career.
The Challenge
My name is Glenn, and I'm 59 years old. My previous education only extended to one semester of high school. I quit school because I had problems adjusting to bullying. I went to work at fourteen years old. I've worked in the trades my entire life, mostly outdoors. So, I thought I didn't need my GED. I'm happy to say I now know how wrong I was. Since finishing this GED course at Albany Park Community Center's Adult Education Program successfully and passing the GED, I now understand why it's so important to achieve your GED.
The Solution
I have had many struggles in my life and after thankfully getting help to become sober a whole new life opened up for me. My outlook on life improved, I moved to better living conditions, got a driver's license and a car, regained trust in me, reconnected with my family, and began classes at APCC to prep for my GED test. To add to my achievements with Albany Park Community Center's Adult Education Program I became computer literate and passed my GED.
I first began classes in the Adult Basic Education (ABE) class because I had to improve my reading skills. With the help of the motivating teachers at the center, in about four months I was able to score higher on my second reading test and be prompted to the GED prep level class. Working with my excellent teachers enabled me to successfully complete my GED. In the layout of the course, I discovered that there were many options for studying. I attended APCC for GED prep in a hybrid (classroom, computer lab, and at-distance learning) setting. In this setting the one that feature that provided the most advantages were an online study provided by i-pathways.org. Unfortunately for me, because I was foreign to the computer and technology it was a struggle to become familiar with the navigation and completion of the work. Through hard work and continued support by my instructors, I was able to become very comfortable using this i-pathways.org in class and at home.
I also committed a lot of extra time taking basic computer classes and using open lab hours at the APCC. The more optional lessons I completed, the better I comprehended each new lesson. When I didn't score a lesson well, the teacher added supplemental lessons. These additional lessons helped me to comprehend the previously failed lesson better. This was extremely helpful with math, especially Algebra. I found, the more I practiced math the easier the lessons became. Fortunately for me, I was able to manage enough time, to complete many of the lessons, in each of the unit subjects. My teacher told me I completed an enormous amount of lessons, in a short amount of time. If you access my records, you will be able to inspect my work. I must also add my teachers added extra work, which also was extremely helpful in completing what I did have trouble learning properly. Without their excellent teaching skills, I wouldn't have been able to write even this letter.
The Outcome
In seven months, I successfully completed the GED prep course and almost all of the i-pathways.org lessons. I signed up to take the GED and passed it with what I think are very impressive scores. I believe, without my excellent teachers' help, I wouldn't have been able to complete the GED. I know have a steady job and continue my successes in life. In closing, thank-you for making my high school equivalency a reality. The entire APCC GED experience for me, has forever transformed my life. As an added bonus, for me, I've finally gotten some answers to nagging old deficiencies. I think you got the picture at how truly grateful I am to APCC
Thelma Bennington
Adult Learner
The Challenge
Thelma was a high school graduate with a third-grade reading level, when she came to The Literacy Center of Evansville, Indiana in January of 2006. She had a goal to improve her reading and technology skills because she didn't want to be embarrassed about her reading inadequacies any longer.
The Solution
She has determinedly stuck with the program for 11 years and worked with more than one tutor. Although Thelma faced struggles and plateaus in her journey, she amassed 275 instructional hours in 2014 while completing seven novels. In 2015, Thelma read ten novels and had over 90 hours. In 2016, Thelma completed 86 instructional hours and read eleven novels. Despite full-time employment with constantly changing over time and shift changes, she has put in the hours on a regular basis, month after month, and year after year. Over the last 11 years, Thelma developed an excellent pattern of reading and raised her reading skills from a third-grade level to mastering the READ assessment and obtaining seven level gains.
The Outcome
As a devoted learner, she continues to work diligently to accomplish her goals, her goals accomplished include spelling; online banking and budgeting; geography and map reading; navigating the internet, embracing e-mail, downloading electronic books, reading from and utilizing tablets, navigating with GPS devices, and communicating via Skype. She has also shown bravery, traveling by car to St. Louis, Missouri; and Clarksville, Tennessee. And traveled solo by airplane to Dallas, Texas, with a connection in Atlanta.
Thelma has successfully surpassed her goals. She has continued her path of being a self-directed engaged learner by starting her seventh novel this month. Thelma is anything but embarrassed today: she now proudly reads aloud, welcomes book recommendations from friends, and impresses her tutor with her insight when they discuss complex themes and characters.
An Incarcerated Man
Adult Learner
The Challenge
Our student had been incarcerated for a crime that caused him to be ashamed of himself and lose the faith and support of his family. He had been locked away from them for four years and had not received any communication from them in all that time. He wrote to them every week to keep them informed of his life even though he got no response. His family lived within 10 miles of the facility where he was housed. He felt like he had lost his family and was completely alone.
The Solution
After being in classes for HSE for a year, he received a letter from his mother. Taking charge of his life and getting an education showed his family that he was changing and that he had good things to offer. He began holding his head high and progressing at an even faster pace. He constantly asked for more work to do on his own. He realized that he was not a loss to society or his family.
The Outcome
After two years in the program, he became more literate and obtained a high school equivalency credential. His family came to his graduation, and he became a tutor to help others during the rest of his sentence. There was no stopping him—he was an asset to the program, and he became a man he thought he wasn't capable of becoming.
Tylor Marino
Adult Learner
The Challenge
Tylor Marino exited South Dearborn High School as a senior due to lack of credits but wanted to join the Marines. His pretest results were below 9.0 except reading. He felt that he was not valued as a student or as a person, and he received no help in school. He could not perform fractions or percentages. He had little knowledge of geometry, measurement, and algebra. His language skills were deficient in usage, punctuation, and sentence formation. He had a lot of skills to learn in a short amount of time.
The Solution
His ABE teacher used a one-on-one approach to teach math and language skills and also used ITTS and connected online programs. Tylor raised reading to 10.7, math to 8.9, and language to 10.8. He passed all TASC tests except math. His teacher tutored Tylor in understanding polynomials, systems of equations, quadratic equations, geometry, measurements, and the Pythagorean theorem. After much studying, one day Tylor announced, "I got this!" On December 12, 2016, Tylor passed his last test, math. Only through his desire to succeed was this possible.
The Outcome
After passing the HSE test, he asked if he could be referred to the welding program offered at Ivy Tech in Madison. Even though the class started at 8 a.m. and he lived an hour away in harsh winter conditions, he was applauded by his instructor as being extremely motivated to learn the welding techniques. He received his AWS certification in December 2016. He was immediately hired as a sub-contractor by Bruns-Gutzwiller through the Local Union 741 earning $34.85 an hour.  
Michelle
Adult Learner
The Challenge
Michelle had no idea that her father and her mother were illiterate. Michelle's mother lost her job when Michelle was 14, and, so, they moved to Indiana where an aunt lived. Her mother got a job, and they moved into a rundown rental. At first, Michelle stayed home and watched television all day. She didn't know anyone. But, after Labor Day, she began to wonder when school started here. Where she grew up, she thought she started school after Labor Day Weekend. So, she ventured out and found out that school had been in session for 3 weeks. Michelle tells me that it dawned on her right then, how illiterate her mother was and how embarrassed she was of it. So, Michelle chooses not to say anything and just never went back to school. She soon finds herself pregnant and marries at 16.   
She, her son, and her husband live a poor life, but they managed. In her late twenties, Michelle has her second child, another son, but one with a congenital heart problem that required numerous trips and stays at Riley Hospital. Her oldest son is in high school, and Michelle tells me that she has preached education to him all of his life. She was determined that he would graduate from high school even though she was overwhelmed with worry and concern with her youngest son.   
At the beginning of her oldest son's senior year, Michelle receives a phone call that her mother was killed in a motorcycle accident. Two months later, her youngest son dies in a pediatric unit. It is her oldest son's senior year of high school, and Michelle takes a very brave step. She came to the Crawfordsville Adult Resource Academy and said that she wanted to graduate high school before her son goes to college because she doesn't want him to be embarrassed about her. 
The Solution
Michelle works hard and her skill levels increased, and I told her it was time for her to take the HSE. She became extremely nervous. And, then, she suddenly had some attendance issues. I called her and asked her to come talk with me. After just a few minutes in the classroom, she began to cry and I will never forget this. Through those dripping tears of her blue eyes, she asked, "You would tell me, wouldn't you?" I said, "Tell you what, Michelle?" "That there's something wrong with me! You wouldn't let me try to take the test, if there was something wrong with me, right?" 
So many issues in this young woman's life that have piled up over the years that challenges her to believe that she can get a high school diploma! 
The Outcome
Her son graduated from Crawfordsville High School last June. Michelle graduated last July. Last Thanksgiving Weekend, I was attending the annual Crawfordsville downtown Christmas kickoff when Michelle grabs my arm. I looked up to see her smiling from ear to ear. Yes, she was doing well, but more importantly, she wanted to introduce me to her son who was about to finish his first semester at the University of Southern Indiana. 
** The teacher wanted to keep "Michelle's" identity private
Braden Wallen
Adult Learner
The Challenge
Hi my name is Braden Wallen. I will tell you a little about myself and how I acquired my High School Equivalency and my plans for the future. I was raised in a little town about 50 miles from Bloomington called Brazil. My parents divorced when I was two and I moved back and forth between my Mom's and Dad's house a lot when I was growing up. I did end up living with my dad most of my life which was great because I was really close to my father. He was the fun dad that played video games, billiards, and would take you to arcades. My life was great until I got into High School and that was when my dad's health started to deteriorate. When I was starting my junior year of high school my dad could barely walk and was on oxygen so I decided to drop out and take care of him. He ended up passing away of a heart attack over three years ago and on top of my father passing away, which was the hardest time of my life, I lost my house because I didn't have the money to pay the bills. I just lost my father, my house, and I had no money. I ended up bouncing from house to house between friends, family, and homeless shelters.
The Solution
I found a homeless shelter in Bloomington that I ended up moving to. When I got to Bloomington I only had five changes of clothes and a backpack and that was it.  I knew I had to start a new leaf in life and I started to go to HSE classes at Broadview Learning Center and that is where I met Sheila Butler. She was the teacher of the classes and I didn't know at the time, but meeting her was one of the best things that ever happened in my life. Sheila not only helped me get my HSE in under five weeks but she also pushed me to get my Work Keys and got me ready to take college classes. I would have been grateful just for that alone but she took me into her house so I didn't have to live in any more homeless shelters or on the streets.
The Outcome
With Sheila's help I now have a job at Cook Medical and have my own apartment with no more government assistance. Now that I have my own place I can go to Ivy Tech and get a college education. I would like to thank Sheila for all that she has done for me. I would like to thank her husband Prince Butler for taking me to work every day and cooking wonderful meals. I would like to thank Rob Moore for helping me get a job with Cook. I would like to thank my friends and family for all the support they have given me.
Mary Campbell
Adult Learner
The Challenge
The road to earning her high school diploma was anything but easy. Mary Campbell had many obstacles thrown in her path, from working the cotton fields as a young daughter of sharecroppers, to becoming a wife and mother by the time she was 14. Simply put, life's circumstances, and even her own negative self-talk, got in the way.
The Solution
The solution is provided in the story, One woman's journey proves it's never too late to learn, which is accessible on the Iowa Department of Education's website.
The Outcome
As for Campbell, she isn't done yet. Now that her high school equivalency diploma is displayed in a frame above her bed where she can see it every day, she has her sights set higher.
"When I passed all my exams I thought, 'Wow, I really did it!'" Mary said. "Now that I know I can do whatever I set my mind to, I really think I will try taking a college course."
Kirk Howard
Adult Learner
The Challenge
Helping adults with significant barriers to employment acquire skills and education through I-BEST (Integrated Basic Education and Skills Training). A national co-teaching education model out of the state of Washington, I-BEST delivers adult basic education and support concurrently with college-level coursework in industry-specific pathways.
The Solution
The solution is described in the story, This was a real game-changer, which is accessible on the Iowa Department of Education's website.
The Outcome
For the students, the I-BEST program is truly life-changing. With hard work, perseverance, and support of all his instructors, Kirk Howard graduated with his HSED in June and holds five college credit hours of CNC machining coursework.
Joy Jackson
Adult Learner
The Challenge
Joy Jackson worked a string of entry-level jobs in various restaurants after dropping out. She loved cooking and had dreams of being a chef and owning her owning her own food truck. But her lack of education and culinary experience was holding her back.
The Solution
The solution is described in the story, Life-changing ingredients, which is accessible on the Iowa Department of Education's website.
The Outcome
Joy Jackson overcame self-doubt and graduated with an AAS Culinary Arts Apprenticeship degree in May 2017.
Megan Linzy
Adult Learner
The Challenge
Faced with a variety of life circumstances, Megan Linzy suddenly found herself as a middle-aged wife and mother without a high school credential, holding several part-time, night-shift jobs in an attempt to contribute to her family's modest income. Undiagnosed in her formative years, Megan discovered in adulthood that she suffered from a profound case of dyslexia, creating a significant barrier to her learning ability. In addition, Megan suffers from diagnosed short-term memory loss.
Megan first entered the Eastern Iowa Community College's high school equivalency program in 2010. After two failed attempts, she enrolled for her third attempt at the program in early 2013. She entered the program, performing at a 6th grade level in reading and math. At this point, it was her personal goal to graduate from high school with her son. 
The Solution
Upon her enrollment, Megan immediately began working with teachers, tutors, and program administrators to develop means of coping with and overcoming her learning barriers. She fully committed herself to her studies and to fighting her way to academic success. She juggled low-paying waitressing jobs with her school work, consuming all of her waking hours. 
After just a few short months, Megan celebrated her victory over learning disabilities as she completed her GED® credential. She proudly walked the stage at graduation, realizing her goal of attaining her high school diploma the same year that her son graduated. She was not finished.
In fall 2013, Megan enrolled in her first credit classes at Scott Community College. Making a sound decision to begin with foundation-level coursework, she enrolled in math and writing courses to lay the groundwork for future success. As a first-generation college student, Megan joined Trio Support Services to take advantage of the additional resources available to her through that program. In recognition of her dedication and ability to overcome the most difficult of circumstances, Megan was offered a part-time job in the EICC adult education and literacy program as an evening assistant where she provides top-notch customer service and personal empathy to current students. Megan also volunteers her time to tutor adult education students who are struggling in their studies.
Megan made an early decision in her college career that she would like to give back to the field that was helping her dig her way out of her circumstantial hole. She set her sights on a degree in education, with an ultimate goal of teaching in the very program where she began her ascent. 
As if her personal obstacles weren't big enough, Megan's mother is in the late stages of a battle with cancer. Megan is her mother's primary caregiver and has added this responsibility to the list of potential distractions to her academic success. However, in the same winning spirit that she has demonstrated time and time again, she has figured out a way to manage this bitter and emotional piece of her life with amazing grace and fortitude without compromising her academic success.
The Outcome
During her time at Scott Community College, Megan has been recognized as an outstanding student by Trio and is a recipient of the college's President's Award. She has been asked to share her story with current students, the college board of trustees, and even at the state level. Her personal story is compelling and engaging, delivering a message of hope and confidence to students who suffer from any kind of self-doubt. She has demonstrated amazing personal tenacity in overcoming multiple obstacles to her academic progress and has done so with spectacular results.
In May 2017, Megan will graduate from SCC with an associate of arts degree with academic honors. She has been accepted into a bachelor of arts in education program at Upper Iowa University, which she will begin in the fall.
It is with great pride and confidence in her ability to overcome the most devastating of obstacles that I can say that I look forward to the day that Megan will join our program as a high school equivalency instructor. I believe that she is most deserving of the 2017 COABE Outstanding Learner of the Year award and I look forward to celebrating with her as she adds this accolade to her growing list of achievements.
Winifred Ngwa
Adult Learner
The Challenge
Winifred Ngwa left her home country of Cameroon seeking peace. Tensions between anglophone and francophone citizens have created a crisis in Cameroon, and like so many, Winnie came to America seeking a better life. Although Winnie was an early childhood teacher in her country, her education and experience are not recognized in America, so she came to Adult Education and Literacy to earn her high school equivalency diploma.
The Solution
Winnie took classes in math, social studies, science, reading, and writing. While all of the classes offered by our program help prepare students for the HiSET tests and college, Winnie found our developmental reading class particularly helpful because it helped her expand her English vocabulary, and increase her reading speed and comprehension in English. Several staff members in our program formed personal relationships with Winnie. Because she left all of her family behind in Cameroon, we tried to become a surrogate family for her and encouraged her to keep working toward her goal.
The Outcome
Winnie earned her high school equivalency diploma on the last day of our 2016-17 program year! She is currently preparing to enroll in a social work program at Indian Hills Community College.  
Liz Smith
Adult Learner
The Challenge
Getting high school drop-outs support to complete their equivalency and transition to postsecondary education.
The Solution
The solution is provided in the story, It's never too late to return to education, which is accessible on the Iowa Department of Education's website.
The Outcome
Now in her third semester as a college student at Northeast Iowa Community College (NICC) and preparing to transfer to Loras College to study communications, Smith looks back at her path and the people and programs that helped her get to where she is today.
Sara Zimmerman
Adult Learner
The Challenge
Sara Zimmerman had only completed school through 8th grade in a homeschool setting. She struggled with math in general and didn't have any experience with some of the higher-level math (algebra, in particular) common to high school equivalency exams. However, Sara needed a high school diploma to progress further with her career goals.
The Solution
Sara enrolled in North Iowa Area Community College's Adult Education and Literacy Program in Charles City, Iowa in January 2017. The program provided Sara with math and literacy instruction at a location convenient to her. Class sizes are small, so Sara was able to receive a lot of individualized instruction and support. Sara also commented on how encouraging her instructors were. When she had doubts, they would assure her that she could pass the exam. One of her instructors commended her on her persistence and the fact that she never let setbacks get her down.
The Outcome
Through her participation in NIACC's Adult Education and Literacy program, Sara raised her math level from a 1st-grade level to a 5th-grade level in 3 months. In two more months of study, she successfully passed the HiSET® exam and earned her high school equivalency diploma in May 2017. On 4 out of 5 of her subtests, she scored at college-ready level. After completing her diploma, Sara enrolled in a CNA course and is planning to find employment at a long-term care facility in her area.  
Clarence White

Adult Learner
The Challenge
Clarence came to the Neosho County Community College adult program a year ago after having lost his job. He was an OTR truck driver who had a seizure while driving on a freeway. After many medical visits, he has been able to control them, but needed to re-invent himself for a different career. Even though Clarence is a non-traditional student who left school decades ago at 15 years old, he came every day for lessons and pushed through frustrations and challenges.
The Solution
Through intensive diagnostic testing with TABE and in-house curriculum, his teachers customized his learning plan. They aided him in acquiring basic technology skills and cross-platformed his lessons. Clarence needed multiple, repetitive lessons due to some memory retention issues. The teachers provided multiple textbooks and readings for him to take home and work on for retention and knowledge. They encouraged Clarence to work with other students helping them with the lessons he already mastered. His teachers helped him gain internet skills through Google Chrome, Google Maps, and Google Slides.
The Outcome
Clarence obtained his Kansas State High School Diploma and is now enrolled at Labette Community College in their welding program. He was also awarded the Kansas Outstanding Learner award for his commitment to the program and to education. Because of his new technology skills, he was able to successfully navigate OSHA's online curriculum and pass their testing and standards. He remains helpful, encouraging his fellow students and community just as he was in Neosho's program.
Cecelia Lopez

Adult Learner
The Challenge
Cecilia moved to the United States from El Salvador where she escaped a violent, abusive home environment and war-torn country. She didn't speak English when she arrived at the age of 15, and one of the first people her family met here told her that Hispanic people  don't come to the U.S. to go to school—they come here to work. Not knowing how to navigate the educational system and not understanding the language, Cecilia did what she was told and went to work as a janitor.
The Solution
Although Cecilia had a job, it was not fulfilling. She cleaned office buildings for 10 years. From the time she was a little girl, she dreamed of becoming an attorney. She had no idea how to achieve this dream, but the persistent thought stayed with her for years. One day as she drove past Johnson County Community College, she said to herself, "Someday I am going to be a student there." She went home that day and looked up the JCCC GED® prep program online. She called and enrolled in the GED® prep program with her sister, Jessica. Cecilia and Jessica felt, for the first time in a very long time, that there was something to hope for—a GED® certificate, an education, and a better life.
The Outcome
Cecilia worked tirelessly on her GED® prep studies and passed the test. She scraped together enough money to take a few classes at JCCC the following semester. She also got involved on campus, eventually serving as an officer for Student Senate. She was an Outstanding Student Award recipient at JCCC and received a scholarship to attend Rockhurst University, where she graduated with honors in 2015. She is currently studying law at the University of Kansas. Cecilia is now living her dream!
Van Tran

Adult Learner
The Challenge
Van Tran enrolled for English (ESL) classes. After assessment and pre-test, she was placed in the low-beginning class. At that time she was middle-aged. She had a strong desire to go to college, but she did not know how to go about it. None in her family or friends knew what her options were. She was frustrated because she did not have a high school diploma from a U.S. school because she was a refugee from Vietnam.
The Solution
The director talked to her in order to help her. He found out that she had a high school diploma from Vietnam. She established her residency in Wichita, Kansas. The director learned that Butler Community College (BCC) will accept high school graduates from other countries. They had to take math and English assessments. The director obtained sample assessments, Van prepared for and passed the assessments, and then enrolled at BCC. The director told Van that she should go to Wichita State University(WSU) after getting her associate degree from BCC. Van did follow through.
The Outcome
Van graduated from WSU with an undergraduate degree in mechanical engineering. She was hired as an engineer at Cessna and became a taxpayer. She also earned her master's degree in mechanical engineering. She was extremely happy and profusely thankful to the Wichita Indochinese Center for giving her basic English skills to cope with her English classes at BCC and to the director for guiding her to achieve her goal.  
Shaquanda Clemons
Adult Learner
The Challenge
There's no question about it: Center for Literacy changed Shaquanda Clemons' life. She is one of seven kids, all of whom dropped out of high school. She didn't like it, so she just left. Education wasn't a priority when she was growing up, so no one pressured her to go back.
The Solution
About four years after she left high school, Shaquanda's mom was working toward earning a GED® credential at Center for Literacy. Her mom urged her to go to class with her. Ultimately, Shaquanda started taking classes. Center for Literacy was different. Unlike high school, where teachers could only focus on the trouble-makers, Center for Literacy was a mature learning environment. It was hands-on. It was personal. Her teacher helped her re-learn things—it was hard, but in 2011 she earned her GED® certificate in just six months.
The Outcome
Shaquanda got a job at Center for Literacy at the front desk. She then started helping with data entry, and today she is proud to be the Senior Data Specialist at CFL. She attends Community College of Philadelphia. When she completes her associate degree, she will go on to Temple University. CFL has given her a great job and helped her family work towards their GED® credentials. What she is most thankful for is that CFL gave her the opportunity to give her son Caleb a future.
Emmanuel Kababa
Adult Learner
The Challenge
At three years of age Emmanuel and his parents fled from violence in his birth country of Democratic Republic of Congo. He then stayed in Uganda for the next 17 years before settling in Pittsburgh in 2016. He arrived set on training for a career that would lead to stability and independence in his new homeland. Without a college degree Emmanuel had limited options, so he set out to accomplish the first step in his educational journey, earning a high school equivalency diploma.
The Solution
Citing a childhood desire and aptitude to "fix things," Emmanuel dreamed of becoming an engineer. Entering Literacy Pittsburgh with this aspiration as his motivating force, he dedicated himself to accomplishing it. He and his teachers worked tirelessly inside and outside the classroom studying English and Social Studies, his toughest barriers to passing the GED® Tests. Staff assessed his progress with a variety of formal and informal assessments and advised him when they thought he was ready to take the tests. Additionally, a transitions manager worked to help him prepare for life after the GED tests by assisting with college and scholarship applications.
The Outcome
Emmanuel's dedication coupled with the support of a committed staff contributed to his passing the GED tests. Immediately after earning his high school equivalency he enrolled at the Community College of Allegheny County where he was awarded a prestigious scholarship. Not satisfied with his current accomplishments, Emmanuel eventually plans to earn a master's degree in mechanical engineering. He undoubtedly will learn to make things so well they might never need to be fixed.
Joseph Gonzalez
Adult Learner
The Challenge
"I passed math because of her," relates Brooklyn native Joseph Gonzalez about his IU 13 Community Education instructor. Joseph needed to earn his High School Equivalency (HSE) diploma in order to move to the next step: become a union iron worker.
The Solution
After three years in prison and a lifetime of struggles, Joseph moved to Lancaster where his parole officer encouraged him to contact the Reentry Services office at Career Link. With the support of Reentry Services, Joe completed welding training at Thaddeus Stevens College of Technology. But to enter the union, he needed to earn his high school equivalency (HSE) diploma. The reentry office connected Joe with IU 13's Community Education program, where he studied for five months with his IU 13 instructor in the Improved Reentry Education (IRE) program and earned his HSE. Joe joined the union and became a certified welder.
The Outcome
When Joseph reflects on his past, he shares that he learned from his mistakes and advises others, "Just because you fell all the way to the ground doesn't mean you can't get up. For every 10 steps you fall, jump up 20 steps. You might have times when you're sad, but keep pushing." Joseph acknowledges that the transition from New York to Lancaster has not been easy, but shares that as a hard worker he appreciates that "everything is a lesson learned."
Miguel Ikomo
Adult Learner
The Challenge
Refugees from the Congo, Miguel Ikomo and his family arrived in the US a year ago through the support of Church World Service. He knew he needed to earn a high school equivalency degree first, which he accomplished in 5 months.
The Solution
"I was really driven to improve my English to get ready for college. I didn't want to waste much time," explains Miguel about his enrollment in IU 13 Community Education's Academic English program through Immerse International in Millersville. There, he practiced the four language skills of listening, speaking, reading, and writing as well as grammar and vocabulary development. "We did great stuff, like discussions, which is really common in colleges so it gets you ready for college assignments. It was great."  Upon conclusion of the semester program, Miguel began applying to colleges where he hopes to study computer science and play soccer.
The Outcome
Miguel currently has a job in roofing and spends any free time training for soccer. He notes that as the oldest son in Congo–with his father already in the US–he had the most responsibility and is accustomed to hard work. His advice to other new arrivees in the US is reflective of his work ethic: "You've been dreaming of America…to come for pleasure…to get money easier…You have to work hard—harder than you used to—to improve in every domain."
Natasha Khaliq
Adult Learner
The Challenge
Teenage mother. School expulsion. Prison time. These roadblocks, and more, slowed down Natasha Khaliq's dreams, but did not stop her. Today, at the age of 37, she has been accepted to Lancaster County Career and Technology Center (LCCTC) for Licensed Practical Nursing (LPN) training–her dream since she was 15.
The Solution
Enrolling at LCCTC first required that Natasha earn a high school equivalency (HSE) diploma, which she did after five months of tutoring through IU 13 Community Education's Improved Reentry Education (IRE) program at Career Link. (In 2013, Natasha had been one subject test away from earning her HSE when the GED test changed, forcing her to start over again). Working with her IU13 instructor, she also learned about career and training options, so that on the Monday after Natasha earned her HSE, she knew her next steps and enrolled in Community Education's Pre-LPN classes. There, she learned the skills and knowledge necessary to pass LCCTC's nursing entrance exam (Test of Essential Academic Skills) in May 2017 and register for the 18-month training program.
Going to CareerLink to earn the HSE was not easy for Natasha; she was in constant pain from a recent surgery and juggling the roles of wife, mother, and student. She notes that her IU13 Community Education teacher was immensely patient: "That's what I love about her. Every time when I was in a lot of pain she was understanding and patient. Miss Mary and I had not just a teacher connection–I felt a spiritual connection with her."
The Outcome
Going to CareerLink to earn the HSE was not easy for Natasha; she was in constant pain from a recent surgery and juggling the roles of wife, mother, and student. She notes that her IU13 Community Education teacher was immensely patient: "That's what I love about her. Every time when I was in a lot of pain she was understanding and patient. Miss Mary and I had not just a teacher connection–I felt a spiritual connection with her."
William Vaskie
Adult Learner
The Challenge
Today, William Vaskie is featured on billboards in Lancaster County. Two years ago, he was in state prison. Like many adults exiting prison, William was not sure of his next steps. "I just wanted to have a normal life. I wanted to have a house, a family, and a career—something I never had before."
The Solution
A conversation with his parole officer led William to Lancaster's Career Link where he earned his GED through the IU13 Community Education Program just two weeks later. He next enrolled as a full-time student in Lancaster County Career and Technology's (LCCTC) welding program where his tuition was funded by IU 13's Improved Re-entry Education grant. After one month of school, he was offered a co-op—he works as a welder in a manufacturing company every day and goes to school for five hours twice a week after work. In the meantime, William became a celebrity when LCCTC photographed him while in training and used the picture on billboards to advertise their welding program.
The Outcome
With just a few months remaining in his training, William reflects on his past and advises folks who face re-entry: "I felt like nothing was going to change. And it wasn't easy. But you have to go out and get it.  Your past is behind you. You gotta live for now." William is a testimony to learning about the possibilities and pursuing them. "I love my job and I'm looking forward to finishing school! Go with your heart and passion. Anything is possible!"

Greg Zucatti
Adult Learner
The Challenge
Greg dropped out of high school the first chance he could. Taking and selling drugs, Greg's life was one dedicated to crime and eventually turned into one inside a prison. Then one day he caught his reflection in a mirror and realized that if he continued on his current path, he would end up back in prison. It was at this point where he decided he no longer wanted to live a life that was "cheap," and he came to the Lifelong Learning Center. 
The Solution
Greg Zucatti came into our program after 4 previous unsuccessful attempts of enrolling in a high school equivalency preparation program. He believes that if his instructors had been his teachers in high school, he would have thought twice before dropping out at the earliest possible chance. He was able to build a strong rapport with his GED® instructors, saying that his instructors' upbeat positive attitude was contagious and made learning fun. They were thorough with their explanation and adjusted the pace according to his needs.
The Outcome
He oriented into the program in January 2017 testing at an 8th GE reading level, 6th GE math level, and 7th GE language level. Upon his successful completion of the high school equivalency diploma, all his reading, math, and language levels went up to that of low adult secondary/ high adult secondary levels, achieving a 12.1 in language. Greg also has successfully entered the workforce and is considering applying to Penn State Schuylkill to earn his associates degree in business management.
Adry
Adult Learner
The Challenge
My name is Adry, and I was born in Caracas, Venezuela. When I graduated from high school, I enrolled at Venezuela Central University where I obtained Bachelor Degrees in Biology and Education. I used to leave my house to go to university around 4:30 am and I arrived at home around 8:00 at night. Then, I had to study do my homework and get ready for my next day's class. It was very difficult for me and a lot of effort to achieve my goals, but it was worth all of the hard work.
I worked in a lab as a microbiologist for a year, and then I moved on to another job closer to my house with better pay. Meanwhile, I met Pablo on one of his trips to visit his family. Our friendship became a romantic relationship; years later, he proposed to me, and I immediately said yes. But there was an issue; he lived in the USA, and I lived in Venezuela. At first, I didn't want to come to the USA because I didn't want to leave my family behind.  But then, love was stronger, so I came to the USA and we got married.
Rhode Island was very different, in everything from the language to the weather. I wanted to be productive in this country, but the language barrier was an obstacle. I found Genesis Center, which opened their doors to me, and I enrolled in ESOL classes. My teachers, Bonnie Taylor and Sheryl Buchanan, made me feel very comfortable. Classes were hard, but I learned a lot. I felt more confident because I was fluent in speaking, writing and listening in English, which motivated me to think about getting a job.
The Solution
noticed that Genesis Center was offering a Medical Assistant Training Course. When I first applied, I was not accepted because I was not very well prepared for the interview. I continued studying to better myself, and when I applied a second time, I was accepted. My teacher, Gienia Kocur, did a fantastic job teaching us the entire spectrum of skills to be an efficient and productive Medical Assistant. Workforce Coordinator Liz Hanke was also very influential in job preparation, guiding us in how, where and when to look for a job. Gienia, Liz and Cindy Alvarado helped me to get an internship at Roger Williams Medical Associates, a CharterCARE group in East Providence, where I did all of my internship hours in a month.
The Outcome
When I completed the program, I got a job interview at St. Joseph's Health Center in Providence; days later, they hired me, and I am still working there as a Medical Assistant.  The interviewer told me that my internship supervisor had fantastic things to say about my job performance and that I came highly recommended. I am very grateful for the support of the staff and teachers at Genesis Center. Genesis Center changed my life because once again, I can feel productive and help to better the lives of others.
Zenaida Garcia
Adult Learner
The Challenge
When Zenaida first came to Genesis Center, she didn't know she had a gift. A talented writer, with a natural sense of rhythm and an imagistic mind, Z had gone 47 years without ever hearing anyone say, "You are intelligent," or "You are a good writer." But she is. Through her writing, one discovers that there is quite a bit of depth to this woman—wisdom wrought from painful matters of having survived physical, sexual, and psychological abuse. 
The Solution
Thanks to the flexible structure of the ESOL program for college and career readiness at Genesis Center, which affords the learning facilitator the freedom to tailor lessons to the individual needs of learners, as well as the time to offer office hours, Zenaida was given an ear. Having someone to listen, to encourage, and to challenge her, Zenaida blossomed. Z's appetite for learning seems to grow with every page she turns. The seed was planted when she read a short poem called "Imagine The Angels of Bread" by the great poet Martin Espada. The voice of the downtrodden, rising up and becoming empowered to imagine feeding empty mouths with bread, spoke to her.
The Outcome
Zenaida is still blossoming. Recently, she submitted a short story to a journal for publication. She has become a mentor to other students who gather around her asking for advice on their own writing. She has developed an educational plan, which includes going to community college while volunteering at an organization that helps battered women. Above all, she has laid the foundation for being a productive member of society, one who contributes in many ways to the fabric of American culture.
Sidonie
Adult Learner
The Challenge
When I first arrived in my new country, I didn't expect miracles to happen since I did not speak English. However, I enrolled in ESL classes at Genesis Center in Providence to begin my new journey.  Once I started feeling more confident with my new language, my dream of becoming a midwife resurfaced. My teachers encouraged me to get a high school diploma through the National External Diploma Program (NEDP), which I accomplished in just three months. With a high school credential in hand, having a high school credential expanded my options for a better job.  I enrolled in a skills training program, became a CNA and moved on to a better job.
The Solution
The next step in my journey was to find a way to enroll in college to study nursing.  It was then that I met the Transition to College (TTC) team at RIRAL. TTC played a significant role in my education. Through this program, I worked closely with teachers who encouraged me to excel in subjects where I had previously struggled.  Moreover, they provided the guidance necessary for me to enroll in the Community College of Rhode Island Nursing Program.  The TTC team was with me every step of the way—-checking to make sure I took the right courses and getting help when I needed.  Believe me, navigating the sea known as the American higher education system would have been much bumpier if I had not received the support from TTC.
The Outcome
After years of working hard and receiving the guidance to pursue my education, working as a CNA, and raising a family, I finally passed the nursing entrance exam and am proud to have R.N. at the end of my name.  Although I faced many hurdles along the way that made me reconsider my academic abilities, those hurdles aided me in becoming the person I am today. Despite the many challenges, I learned to adjust by working harder than I ever had in my entire life. Over time, I excelled in my courses and even started helping other struggling nursing students. After years of hard work, sacrifice, and countless challenges, I graduated as one of the top students in the nursing program and landed a job as a nurse in a local nursing home shortly after graduation.  Moving from an entry-level job to a better job, to a great career in nursing took time, a village, and a strong commitment for a better life.
DeRyanna Spear
Adult Learner
The Challenge
DeRyanna "Rye" Spear told her grandkids she wanted to get her GED® to demonstrate anything is possible if they set their mind to it. Rye started attending CLCBH in October 2017. She was placed on medical leave for a back injury. Her educational journey had challenges. Growing up in an alcoholic family contributed to school challenges. She had a baby girl her senior year, putting education on hold to work. She had two additional children; family was her priority. Studying was difficult.
The Solution
Excited to live closer to her daughter and new grandson, Rye and her husband, Calvin, moved to South Dakota. Rye soon realized jobs she wanted to apply for required her to have her GED®. Seven months into her position as a CNA in a nursing home, she fell and injured her back. Even though she struggled with pain and headaches, she was determined to use the time to study for her GED® exam. 
Rye became friends with a fellow student which led to becoming study partners. They have motivated each other to persevere. For both, having their high school equivalency is required for their desired job positions in the healthcare field. Coincidentally, they both are coping with debilitating back pain and are able to empathize with each other. 
The Outcome
In both reading and math, Rye improved by 2.6 grade levels and completed her final exam in math on August 14, 2018. This accomplishment has given Rye confidence. She is proud to share this milestone with her family. Since completing her GED®, she has received her Med Aid Certification. Rye's long term goal is to continue her education by studying to be a phlebotomist. She is receiving assistance from Great Plains Tribal Chairmen's Health Board via a Health Pathways Occupations Grant.
Jeremy Walker
Adult Learner
The Challenge
Jeremy Walker had survived homeless situations and had a rocky educational beginning. Jeremy dreamed of becoming an ASE certified mechanic. He worked diligently and with a purpose in order to fill in educational gaps in learning. The dedication he showed was impressive and he quickly became a quiet leader giving positive reinforcement to everyone in the classroom. As he moved forward, he had problems arise seeming to be "deal breakers". Without connections, college would not have been possible. 
The Solution
Jeremy chose to move forward and allowed staff at the CLC to help him write a resume. He was connected to Pathways to Prosperity and SeekLearnGrow. He wanted help; he knew he would be likely to succeed if the right people were on board. After finding out he received a Builds Dakota Scholarship and celebrating the idea he would be able to go to Western Dakota Tech, he discovered he had not filed with selective service. Additionally, his immunization records could not be found. Jeremy worked evenings and studied for the GED® during the day and was becoming discouraged. The local DLR office stepped in to assist with resolving the selective service issue. The immunization issues were also resolved via assistance from Community Health.
The Outcome
Jeremy's positive and 'can-do' attitude has led him to begin his post-secondary studies at Western Dakota Tech in the Light Duty Transportation Technology Program. In working to connect each graduate to their identified career pathway we often heard, "If Jeremy can do it, I can, too." Jeremy has returned to check on friends in our classrooms and provide encouragement. There is no question the success of Jeremy will have a positive influence his family and friends for generations to come.
Michael Welch
Adult Learner
The Challenge
Michael Welch admits his educational path was full of obstacles. He spent time homeless and moving as a hobo riding rails from one destination to another. Upon entering the GED® preparatory classes, he shared hopelessness and self-doubt. Instructional staff was apprehensive about Michael's resolve to participate and persevere. An amazing transformation took place as Mike was persuaded to take part in a CPR/First Aid class given for students contemplating work in the healthcare industry.
The Solution
CPR/First Aid classes reignited Mike's passion; caring for others. The instructor suggested he consider becoming an Emergency Medical Technician (EMT) and continue in the Paramedic training. The same afternoon, Michael submitted an application for Health Pathways Occupations Grant (HPOG) to acquire training. Michael Welch found his dream and started down a career pathway leading him to obtain his GED®. Michael developed a professional resume. He applied for a Builds Dakota scholarship including an essay and extensive documentation. He was assisted by SeekLearnGrow, a non-profit organization specializing in helping students get into post-secondary education and understanding the process to apply for and secure Federal Financial Aid.
The Outcome
Michael was chosen as a recipient of the Builds Dakota Scholarship covering 100% of tuition, fees, and necessities of his college. Finding a way out of poverty is difficult; he committed to participation in Pathways to Prosperity Mentorship Program giving students intensive case management and assistance with the world of work and education. He completed the EMT Bootcamp and enrolled in Paramedics courses at Western Dakota Tech. Michael has become a positive leader for other GED® students. 
Cecelia White Eagle
Adult Learner
The Challenge
Cecelia White Eagle completed her GED® journey in Rapid City, SD. Cecelia had difficult times, living without a home and separated from a domestic violence situation; yet she had hope and was determined to accomplish her ambitions. Cecelia could not get an apartment until she saved a deposit, utility hookups, and $200 for the unexpected moments a move might entail. She struggled to pinch her pennies and found an apartment. The entire time, she worked 8-12 hour days and then came to class.
The Solution
Miss White Eagle heard about a "tremendous math teacher" who could help assist her in algebra and geometry; she came to the Career Learning Center of the Black Hills to get the necessary skills. Her work ethic allowed for achieving a high school equivalency. She evidenced an increased grade equivalency in math totaling 4.5 years and finished her GED®. Cecelia set her sights on attending Western Dakota Tech for Law Enforcement. She attended adult education classes to prepare for the Accuplacer examination and ensure her placement into credit-bearing courses. Cecelia prepared an employment portfolio and completed scholarship applications. She left the Career Learning Center of the Black Hills on May 1, 2017, and started college that August.
The Outcome
She has since become a scholarship recipient and completed her first year of college. Her name appears on the Dean's List for the fall of 2017. In January 2018, Menard's in Rapid City honored her by naming her the Associate of the Month. She also became the proud owner of a car. Cecelia continues the quest to become an excellent law enforcement officer who will be trained to serve with honor and dignity. She was chosen the SDALL Adult Learner of the Year and accepted the award in July.
Anthony Dudley
Adult Learner
The Challenge
MTSU Leisure and Sport Management graduate Anthony Dudley ('12) freely admits he did the bare minimum to pass classes and earn his undergraduate degree in English from Florida State University. Two years after graduation, at a standstill in his professional career, he decided to enroll in the master's program at MTSU to pursue his true passion—sports.
The Solution
Dudley said he learned three important lessons while at MTSU that allow him to have success today: core values, perseverance, and a personal skill set—all of which he credits to Health and Human Performance professor Colby Jubenville.
"Dr. Jubenville is probably the most unique and passionate person I have ever met," Dudley said. "He exposes his students to things that you are not taught anywhere else."
The Outcome
Dudley is living proof that Dr. Jubenville's model for coaching students to achieve their professional dreams and enter the workforce prepared for success is working. Dudley is currently senior director of development for the Nashville Sports Council and Franklin American Mortgage Music City Bowl, the postseason college football bowl game that serves as that prominent organization's premier annual event.
Maribel Ceron Delgado
Adult Learner
The Challenge
Maribel was a newcomer from Mexico with an elementary school-aged daughter. She was facing problems learning the American tradition of teaching, the grading system, and the language since this was all new to her.
The Solution
Maribel enrolled in the Socorro Community Ed adult classes at the same site where her daughter attended school. She entered the program at the beginning literacy level and with no writing skills. At this point, she wanted to be involved in her daughter's education and help her with homework.
Upon her enrollment, she started learning sight words and other subjects that her daughter was also learning in her class. This is when she realized that English is an important language that she had to learn in order for her and her family to be successful. Now she is interested in continuing her education. She wants to become a dental assistant in the future.
The Outcome
This past semester, Maribel advanced her ESL level to an exit level in both oral and written language. Maribel, was recently awarded the ESL Persistence Award by TALE, due to her persistence and dedication to her classes. She also obtained a job as a monitor with the same school district where she and her daughter attend school. She plans to continue with her class for this semester and plans to continue pursuing a degree in the future.
Karen Fabian
Adult Learner
The Challenge
Karen is a single parent raising three children (one is autistic) on a waitress/server paycheck. Karen works her shift during the day, walks home (which is quite a distance) to change clothes, and walks two to three more miles to the public library where the high school equivalency class is held. She does this twice a week in scorching hot temperatures or on cold & rainy days. Karen would have finished testing earlier but wasn't able to test because of her financial responsibility to her family.
The Solution
Karen is self-driven and highly motivated, regardless of family or financial hardships. She has a positive outlook on life, always giving a kind word or advice to her fellow students. Throughout this school year, Karen has studied and prepared herself to take one GED® test at a time, sometimes walking a couple of miles or riding her bike to the testing site. Karen shared that she arrived in time for the test thirsty, tired, hungry, or with a headache from the South Texas heat, but she focused on reading and passing each test. Karen passed all her tests to receive a GED® certificate and scored in the college ready range, all while being a limited English speaking student.
The Outcome
Karen attributes success to the services she received such as feeling comfortable with her instructor, her flexible schedule, and the reassurance from the instructor she had the capacity and skills needed to succeed. She plans to continue postsecondary education in occupational therapy or psychology. Karen states, "sometimes as adults we have the fear to fail because we think we should already know everything, but in this program, we are given the motivation to persevere—it gives hope back."  
Teresa P.
Adult Learner, Cell-Ed
Community Action of Texas and Leander School District
The Challenge
Teresa, an immigrant from Mexico, had both a strong desire and a sincere need to learn English. However, as a mother of two growing children, she worked long hours at a laundromat where her ever-changing schedule made it impossible to attend classes regularly. She began working as a janitor for the Leander School District, but with such a hectic schedule and a long commute, she still could not attend classes regularly enough to enjoy any real progress with her English ability.
The Solution
Cell-Ed, an over-the-phone English program, was offered to Teresa (and working parents just like her) through the non-profit Community Action of Texas, in partnership with the Leander School District. Cell-Ed is a multi-level, automated English course focusing on real-life dialogues, situations, phrases, and grammar that is accessible 24 hours a day by any mobile phone. Teresa began studying immediately, citing that the self-paced, always-accessible course was exactly what she needed. She dove in head-first, completing lesson after lesson. She stated that the course felt as though it was designed just for her, covering topics that she could easily relate to. She even began encouraging people in her life to start learning English with Cell-Ed!
The Outcome
Leander School District made an offer to all the janitors that if they could attend one class per week and study regularly with Cell-Ed on their own time, their resume would be put at the top of the list for a lead staff position. Teresa nervously accepted the challenge and studied even more rigorously than before. In a short time, she was interviewed (in all English) and was offered the job! Thanks to her determination and the always-accessible Cell-Ed, Teresa enjoys stable hours and higher pay.  
Kaitlyn Smitherman
Adult Learner
The Challenge
Kaitlyn Smitherman describes her formative years as being frantic, constantly moving all over the southwestern U.S. with her family. As a result, she was extremely shy and insecure and had no long-term friends. She dropped out of high school after ninth grade because she could no longer handle moving from school to school. After a move to Florida, Kaitlyn met her fiancé and relocated to his hometown in Virginia, facing financial challenges without a high school diploma or a driver's license.
The Solution
It was in Virginia's Russell County that Kaitlyn decided to enroll in a GED® test preparation class offered by Southwest Regional Adult Education in August 2016. In just seven weeks, Kaitlyn earned her GED® certificate. She currently holds the record of having the highest score made by any participant in the program on the computer-based GED® test. While in this class, Kaitlyn was informed about a PluggedInVA Medical Billing & Coding and Electronic Health Records program that was being offered by Southwest Regional Adult Education and ProTrain. She applied for admission and was accepted. She began the PluggedInVA program, which ran from October 17, 2016, to February 24, 2017, the week before she passed her final GED® subject test.
The Outcome
Kaitlyn excelled in the PluggedInVA program and earned a Career Readiness Certificate and certifications in Basic Life Support, Microsoft Digital Literacy, AMCA's Medical Billing and Coding Specialist, and Electronic Health Records Specialist. After program completion, Kaitlyn applied for an internship with Envision Eye Care in Cedar Bluff, Virginia and was hired. Kaitlyn also obtained her learner's permit on the day she took her last certification exam and is now learning to drive!
Raymond Silva
Adult Learner
The Challenge
Raymond Silva should have graduated from high school in 1999 but chose to leave during his senior year to go to work as an apprentice in his father's aircraft sheet metal repair/fabrication business where he worked for 10 years. He then went to work for Conway Feed for 6 years as an apprentice Millwright. Ray came to Skagit Valley College in 2014 to earn his high school diploma. 
The Solution
Ray enrolled in the adult basic education program and completed his High School 21+ Diploma Fall Quarter 2016. During this time, Ray also enrolled in the welding program and was able to use some of his welding classes in combination with HS21+ classes to earn competency credits to complete his high school diploma. Ray will graduate with honors when he earns his Associates of Technical Arts in Welding in June of 2017. He will be working for 360 Excavating LLC, a heavy equipment business where he did his welding internship.
The Outcome
Ray says "The program was a great experience, and I learned a lot. I was willing to expand what I learned in high school and the classes were smaller, so I got more one on one with the teachers. I was going for my GED and ended up with my diploma and now my associates. I encourage anyone that wants to get their high school diploma to go through HS21+. It is a great learning experience, with great instructors." 
Charlotte Knox
Adult Learner
The Challenge
Charlotte worked at a teen group home and has a teenage daughter; she found herself telling her clients the importance of going to school. She then realized she was not setting a good example as she was without a high school credential She dropped out of school in 8th grade because she was continuously sexually abused, and became pregnant at age 11. She was always bright, but as time passed, she realized she would struggle with the technology, academic writing, math and reading comprehension to be successful. She also realized that in order to progress in her career, she also needs a college degree.
Charlotte entered a Milwaukee area High School Equivalency Diploma program in 2013. After she graduated with her HSED, she felt she needed to enter college. She enrolled at Springfield College-Milwaukee Campus. Right before she enrolled, she had a stroke and was not able to work. She once said, "How can I worry about my paper if I am not sure how myself or my daughter will eat tomorrow? She reached out to the College STILL Achievable program, a division of its parent organization, Literacy For All, Inc.
The Solution
Literacy For All, Inc. (the College STILL Achievable program) provided Charlotte with a trained career and academic trained tutor. The volunteer helps her twice a week (sometimes more) with building the basic and advanced literacy skills required for college success. Volunteers also provide constructive feedback through reviewing papers and online tutoring. She works very hard through her tutor and is proactive towards her education. The volunteer helped her take the mystery and fear out of many elements of college learning.
The Outcome
After being in school for just a semester, Charlotte has around a B average. She completed her first PowerPoint presentation and learned PowerPoint and submitted her first academic paper in 20 years. She learned APA format. She completed four classes and passed all of her classes. She had excellent attendance in tutoring and has helped Literacy For All in its open house celebration and talked about her experiences in tutoring with the West Allis Mayor, Dan Devine. She will be our featured speaker at our inaugural fundraiser at the Harley Davidson Museum in Milwaukee. She also is in the final stages for opening an in-home childcare.
Pamela Menge
Adult Learner
The Challenge
Many employers seek candidates with specific educational credentials and qualifications, yet still find themselves feeling frustrated when they cannot find reliable, skilled and high-quality candidates to fill their entry-level positions. Job-seekers struggle to find work despite having an education and work experience on their resumes. 
Pamela struggled to secure employment in our increasingly competitive job market and needed to set herself apart from other candidates.
The Solution
Developed by the National Work Readiness Council, the NWRC is designed to ensure employers that entry-level candidates/ employees are qualified and ready to perform their jobs successfully. 
Greater Waukesha Literacy's Work Readiness Program was implemented in 2017. This classroom-based course prepared unemployed adults in the community for high-quality entry-level work. Intensive coursework in reading, math and situational judgment prepared students to pass assessments and earn the National Work Readiness Credential (NWRC). 
Greater Waukesha Literacy's summer 2017 pilot program achieved a 100% success rate, with each and every student passing all assessments with high scores and accordingly earning the NWRC.
The Outcome
In accepting Greater Waukesha Literacy's Outstanding Student Award at the 2017 Celebration of Literacy gala, Pamela stated that she had been trying to upgrade her skills and look for employment. Pamela learned about GWL's Work Readiness Program and decided it would be a great opportunity to give her more confidence and improve her resume. She thanked the instructors for being encouraging and patient. She earned her work readiness credential and successfully secured a full-time position.
Nicolas Ramirez
Adult Learner
The Challenge
Nicholas came to Journey House back in 2001 to improve his English language skills.
The Solution
He attended their English Language Learner classes, and after a few years enrolled in their Spanish GED Program. In 2005, he received his GED all while he was working at Sendik's Food Market in Milwaukee. More recently, Nicholas returned to Journey House to work on his citizenship.
The Outcome
Through the years he has continued working for Sendiks and is now in charge of the dairy and frozen foods sections at the store in Whitefish Bay. His wife is an elementary school teacher in South Milwaukee and they are the proud parents of 4 children ages 11-8 months.Whenever a staff member sees him, he never fails to mention how appreciative he is of Journey House for all the activities he has participated in there.