Adult Education Innovations
State Data on Adult Education
---
Arkansas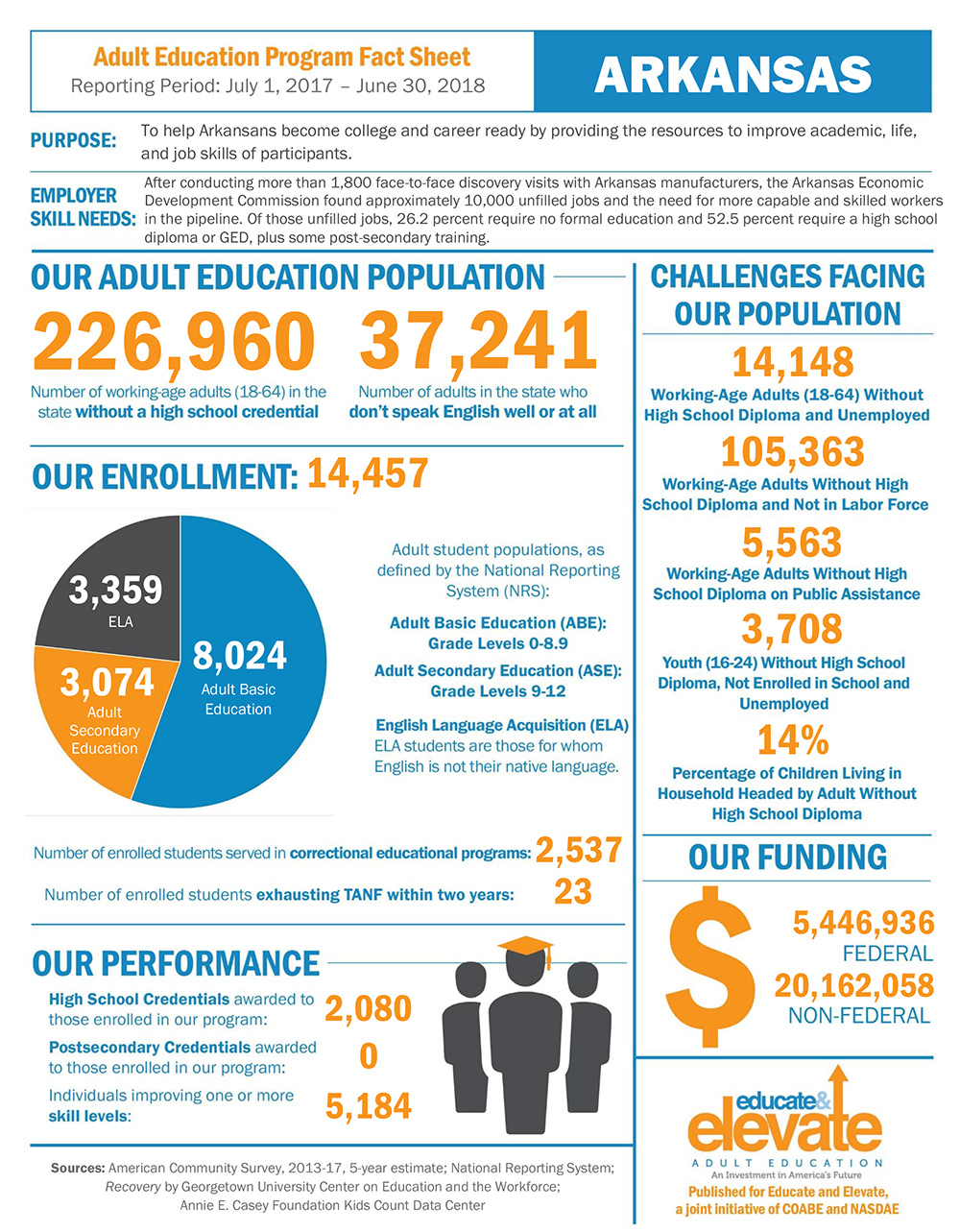 Arkansas
Inmate Tutoring Program
Arkansas Literacy Councils
Little Rock, Arkansas
The Challenge
In 2016, Arkansas Literacy Councils (ALC) joined with the Arkansas Department of Corrections (ADC) to address the problem of low/no literacy in the prison system. With prison schools at capacity, many students cannot read well enough to pass the GED® exam. If a person cannot read well enough to apply for a job or housing, recidivism is common. This program prepares students to study for the GED® exam.
The Solution
ALC and ADC built a program for seventeen units. The units have schools in place, but the classes are full. To serve the students most in need, ALC and ADC decided to place a one-on-one tutoring program under the compassionate eyes of the Chaplaincy, who would choose as tutors literate inmates with the patience and compassion necessary to escort the students into success. When the students complete the literacy program, they will be reading at a fifth-grade level, better equipped to be successful as they strive to pass the GED® tests. The tutors sign a contract for at least 6 months of tutoring. The program allows for transfers.
The Outcome
After two rounds of training, there are 56 committed tutors working with 79 students. 28 tutors have completed both the training and six-month commitment and have received a certificate to be added to their parole file. They are all still continuing to tutor. The
feedback from the inmates is heartening, and it is also making a difference in the tutors' outlook on life. Some paroled inmates are seeking to continue their learning in their communities, wanting to study for their GED® exam.
Adult Learner Success Stories
---
Arkansas
Kevin Hunter Sr.
Adult Learner
The Challenge
Kevin Hunt Sr. dropped out of school in Junior High. His life went into a downward spiral for many years afterward. Unable to support himself due to his lack of education, Kevin relied on his family for their financial support.
The Solution
In 2001, he made a decision that would be the catalyst for changing his entire life, he enrolled in Shorter College GED program.
The Outcome
After earning his GED in 2001, Kevin courageously enrolled at Philander Smith College in 2002, where he not only received a Business Degree in 2006 but also graduated with honors. He went on to receive a master's degree in December of 2015 from Webster's University.
Upon graduating from Philander Smith College, Kevin volunteered for then-Attorney General Mike Beebe's campaign for governor. This eventually led to a part-time job working for Beebe's campaign. Mike Beebe won the election for Governor (2006), and Kevin was hired on as full-time staff.
During the next eight years in the office of Governor Mike Beebe, Kevin worked as communication assistant, spending five of those years as Minority Affairs Liaison.
Kevin invests countless hours of hard work and dedication for the betterment of his community by serving as a mentor to others and volunteering for friend and mentor, Reverend Hezekiah Stewart and the Watershed.
Currently, he is focused on launching his nonprofit mentoring program, Inspiring Other People (IOP), whose motto is "Leading By Example."
A man of God, Kevin joined Second Baptist Church in 2005, under the leadership of Pastor, Dr. Kevin A. Kelly.
Kevin works at the University of Arkansas for the Center on Community Philanthropy at the Clinton School of Public Service, which focuses on community-based philanthropy. He is the son of a very strong mother, grandmother, and great-grandmother. He is also the proud father of one son, Kevin Hunt Jr. He's married to the number one woman in his life, Maggie F. Hunt.
Thank you, Kevin, for sharing your story and inspiring others to keep reaching for the stars!