Adult Education Innovations
State Data on Adult Education
---
Indiana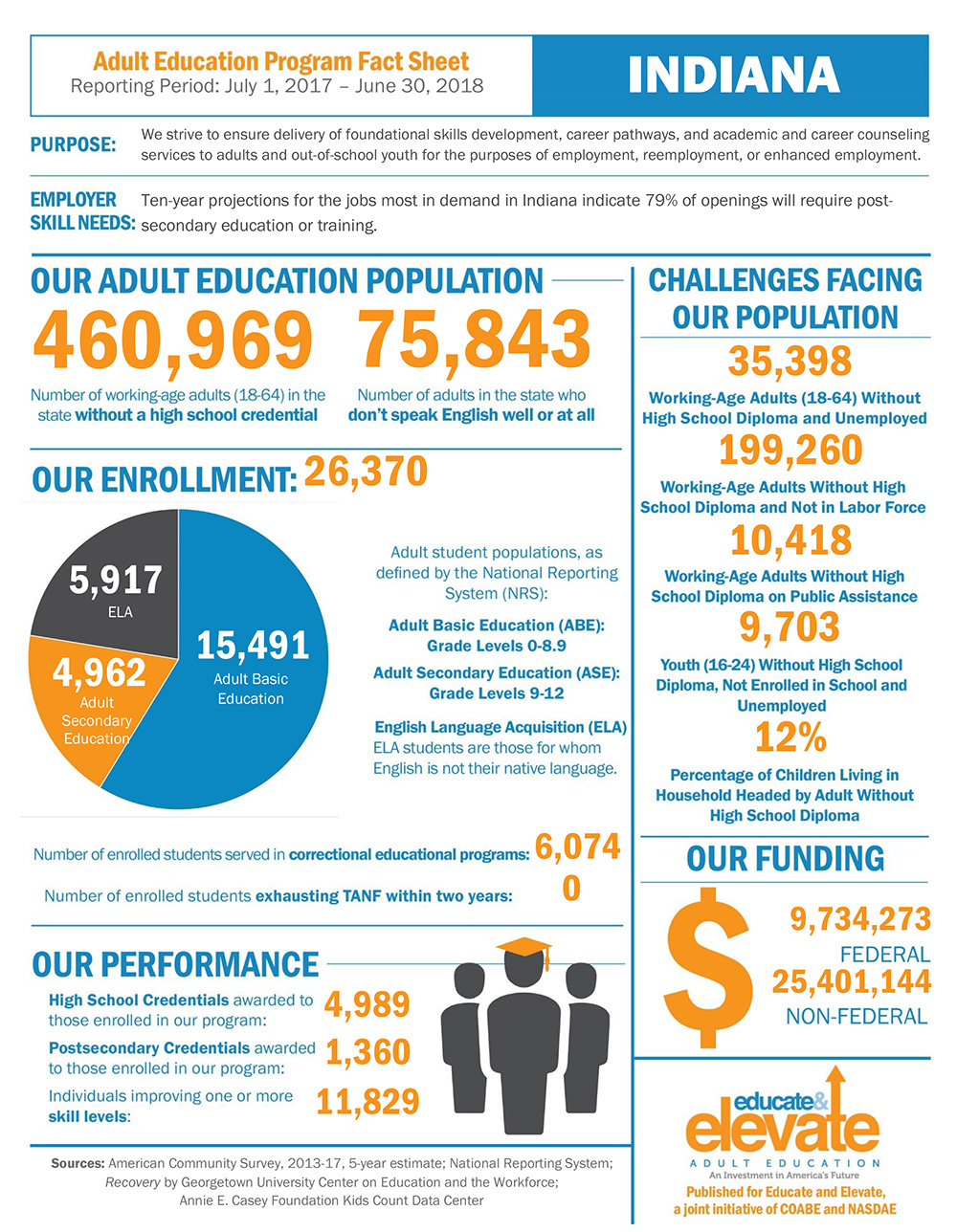 Indiana
Hamilton County Jail's New Career Readiness Program 
Indiana
The Challenge
Hamilton County Jail's new Transitioning Opportunities for Work, Education, and Reality (TOWER) program was recently developed to reduce recidivism rates. The TOWER program, which is the first of its kind at a jail facility, has been funded by a two-year grant from the U.S. Department of Labor. The $427,337 grant allows for two full-time employees from WorkOne to work directly from the jail as Career Coaches. It also funds the cost of eight laptops, software and classroom equipment. 
The Solution
Inmates accepted into the TOWER program prepare resumes and cover letters, work on career skills, take personality assessments, sign up for employment websites, and apply for management, leadership and OSHA certifications. WorkOne educators not only provide education but work with businesses in the county to develop partnerships for future employment opportunities. Some inmates have even been able to interview and secure positions before their release.
The Outcome
Ashley Whitsey, an inmate serving 180 days in the jail was accepted into the program. After being accepted, Ashley, like others in the program, has been able to work on interviewing and career skills. Ashley, like others accepted into the program, will continue with the program after she is released by following up with WorkOne educators from the jail and at the local WorkOne office for continued assistance. They plan on developing a community mentorship aspect which aims to "help connect the recently released inmates with individuals who can provide guidance on both work and non-work-related issues, such as opening a bank account for the first time." 
Indiana Plan Apprenticeship Awareness Program
Indiana
The Challenge
The Indiana Plan Apprenticeship Awareness Program was launched in 2016 at Work One Southwest in Evansville, Indiana.  The goal of the Work Indiana-funded program is to help provide people, namely women, minorities, ex-offenders, and the underemployed the opportunity to enter higher-paying careers.
The Solution
Todd McNulty, a graduate of the program, attended a traditional post-secondary college and served in the U.S. Military but he became increasingly aware that he wanted to take a different route with his life.  After he lost his job and could not land another one he decided that he wanted to follow in his father's footsteps and become a journeyman for the local union. After scoring "off-the charts" on the TABE test and attending adult education classes for 12 hours, Todd was officially enrolled in the course, and the initial step toward his new future had begun.  Todd commented that his instructors were extremely helpful, knew the material in-depth, and were able to present the material in a manner all could understand.  Since he was familiar with the union and life of a journeyman due to his father's example, Todd said the class and instructors surpassed his expectations in refreshing his memory on the specifics of the job as well as ingraining in him new "tricks of the trade", especially the math skills needed for success in the field.
According to Todd, the greatest benefit of the program has been the fact that it positioned him to obtain work immediately after it ended.  "I was eligible to work right after I got out of the pre-apprenticeship class.  I earned 4 certifications through the class, and due to earning these certifications, I was hired immediately into the Local 16 union as an apprentice journeyman electrician.  I had only a one-week gap between the class and when I began working, and that was only because a drug screen is routinely required before someone can start."
Todd was hired on at Indianapolis Power and Light Company (IP&K) in Petersburg, IN, and his opportunity for advancement in both position and pay will continue to increase over time.  A typical day for Todd currently consists of shadowing experienced journeymen and absorbing as much knowledge as humanly possible.  "I am learning the basics and beyond while shadowing these journeymen.  I am learning EVERYTHING about the trade, and it is 100% hands-on.  The pre-apprenticeship class definitely put me in a great position to go straight into this apprenticeship with the basic knowledge and skills required to be a successful apprentice."
The Outcome
The element Todd appreciates most about his whole experience is the fact that the program allowed him to enter a career that is versatile and perfect for his lifestyle.  In the future, he has the option of owning his own business, traveling, and/or transferring periodically to different work locations.  Todd concluded, "There is not just one path in this line of work.  All kinds of options are open to me.  College and the military turned out to be unsuccessful endeavors that did not fit my personality; I am a non-traditional, 'think outside-the-box' kind of guy.  This opportunity has given me a different goal in life, and I am working in an environment that allows me to completely be myself while surrounded by the brotherhood of the union.  This is where I belong."  Todd's story is inspiring and a reminder that the programs and trainings the Work One/Adult Education partnerships offer are often life-changing in the lives of the people we serve. Programs like the Indiana Plan pre-apprenticeship trainings are invaluable and can be the ticket our clients need to improve both their lives and that of their families.
** Link for IN Plan Apprenticeship website: http://indianaplan.org/
River Valley Resources: Strategy Concept
Indiana
The Challenge
After a student registers for the AE program, I implement the strategy concept. The student and I fill out a strategy card where he or she dictates how their course of study will culminate in the student obtaining the HSE in the shortest amount of time. The student helps plot their success, sees the steps in the pathway, selects their testing date, and then starts their course of study. The student has an active part in their success.
The Solution
The strategy concept is implemented by the student and teacher. A strategy card is filled out and placed in the student folder where the student analyzes their pretest scoring, plots their success, sees the steps in the pathway to HSE and beyond to ACCUPLACER and WorkIN programs, selects their testing dates, and charts their course of study, therefore, taking responsibility for their success.
The Outcome
Through the implementation of this strategy, there have been 205 students that have achieved their GED®/HSE credential through me as their teacher. However, I have 10 students waiting for test results or scheduled to take tests within the next week. What is so remarkable is that Ohio County is the smallest county in the state of Indiana and only has one teacher. The successes have been a wonderful testament to the program. Also, every student's picture is on the wall of fame for all to see.
South Bend Community School Corporation Adult Education
Indiana
The Challenge
Our program wanted to bring awareness of the many educational options available through adult education, in conjunction with the National Adult Education and Family Literacy Week.
The Solution
The event, held at Adult Ed's Bendix location, gave attendees a chance to view the building, meet the staff and find out more about the programs offered. But the event also focused on supporting Adult Ed students and helping them plan their next steps — whether that be a job, training or higher education.
Many local agencies set up booths at the event. Students could sign up for a library card or get info from La Casa de Amistad about citizenship classes. They learned about assistance for home heating costs from REAL Services and healthcare choices. College representatives, the staff from WorkOne and local employers who are hiring, were also available.
The Outcome
Nearly 200 people attended the Adult Ed open house September 27, a 57-percent increase over last year's event. The event increased community awareness, as well as awareness of the pathways available to current students.
Adult Student Success Stories
---
Indiana
Thelma Bennington
Adult Learner
The Challenge
Thelma was a high school graduate with a third-grade reading level, when she came to The Literacy Center of Evansville, Indiana in January of 2006. She had a goal to improve her reading and technology skills because she didn't want to be embarrassed about her reading inadequacies any longer.
The Solution
She has determinedly stuck with the program for 11 years and worked with more than one tutor. Although Thelma faced struggles and plateaus in her journey, she amassed 275 instructional hours in 2014 while completing seven novels. In 2015, Thelma read ten novels and had over 90 hours. In 2016, Thelma completed 86 instructional hours and read eleven novels. Despite full-time employment with constantly changing over time and shift changes, she has put in the hours on a regular basis, month after month, and year after year. Over the last 11 years, Thelma developed an excellent pattern of reading and raised her reading skills from a third-grade level to mastering the READ assessment and obtaining seven level gains.
The Outcome
As a devoted learner, she continues to work diligently to accomplish her goals, her goals accomplished include spelling; online banking and budgeting; geography and map reading; navigating the internet, embracing e-mail, downloading electronic books, reading from and utilizing tablets, navigating with GPS devices, and communicating via Skype. She has also shown bravery, traveling by car to St. Louis, Missouri; and Clarksville, Tennessee. And traveled solo by airplane to Dallas, Texas, with a connection in Atlanta.
Thelma has successfully surpassed her goals. She has continued her path of being a self-directed engaged learner by starting her seventh novel this month. Thelma is anything but embarrassed today: she now proudly reads aloud, welcomes book recommendations from friends, and impresses her tutor with her insight when they discuss complex themes and characters.
An Incarcerated Man
Adult Learner
The Challenge
Our student had been incarcerated for a crime that caused him to be ashamed of himself and lose the faith and support of his family. He had been locked away from them for four years and had not received any communication from them in all that time. He wrote to them every week to keep them informed of his life even though he got no response. His family lived within 10 miles of the facility where he was housed. He felt like he had lost his family and was completely alone.
The Solution
After being in classes for HSE for a year, he received a letter from his mother. Taking charge of his life and getting an education showed his family that he was changing and that he had good things to offer. He began holding his head high and progressing at an even faster pace. He constantly asked for more work to do on his own. He realized that he was not a loss to society or his family.
The Outcome
After two years in the program, he became more literate and obtained a high school equivalency credential. His family came to his graduation, and he became a tutor to help others during the rest of his sentence. There was no stopping him—he was an asset to the program, and he became a man he thought he wasn't capable of becoming.
Tylor Marino
Adult Learner
The Challenge
Tylor Marino exited South Dearborn High School as a senior due to lack of credits but wanted to join the Marines. His pretest results were below 9.0 except reading. He felt that he was not valued as a student or as a person, and he received no help in school. He could not perform fractions or percentages. He had little knowledge of geometry, measurement, and algebra. His language skills were deficient in usage, punctuation, and sentence formation. He had a lot of skills to learn in a short amount of time.
The Solution
His ABE teacher used a one-on-one approach to teach math and language skills and also used ITTS and connected online programs. Tylor raised reading to 10.7, math to 8.9, and language to 10.8. He passed all TASC tests except math. His teacher tutored Tylor in understanding polynomials, systems of equations, quadratic equations, geometry, measurements, and the Pythagorean theorem. After much studying, one day Tylor announced, "I got this!" On December 12, 2016, Tylor passed his last test, math. Only through his desire to succeed was this possible.
The Outcome
After passing the HSE test, he asked if he could be referred to the welding program offered at Ivy Tech in Madison. Even though the class started at 8 a.m. and he lived an hour away in harsh winter conditions, he was applauded by his instructor as being extremely motivated to learn the welding techniques. He received his AWS certification in December 2016. He was immediately hired as a sub-contractor by Bruns-Gutzwiller through the Local Union 741 earning $34.85 an hour.  
Michelle
Adult Learner
The Challenge
Michelle had no idea that her father and her mother were illiterate. Michelle's mother lost her job when Michelle was 14, and, so, they moved to Indiana where an aunt lived. Her mother got a job, and they moved into a rundown rental. At first, Michelle stayed home and watched television all day. She didn't know anyone. But, after Labor Day, she began to wonder when school started here. Where she grew up, she thought she started school after Labor Day Weekend. So, she ventured out and found out that school had been in session for 3 weeks. Michelle tells me that it dawned on her right then, how illiterate her mother was and how embarrassed she was of it. So, Michelle chooses not to say anything and just never went back to school. She soon finds herself pregnant and marries at 16.   
She, her son, and her husband live a poor life, but they managed. In her late twenties, Michelle has her second child, another son, but one with a congenital heart problem that required numerous trips and stays at Riley Hospital. Her oldest son is in high school, and Michelle tells me that she has preached education to him all of his life. She was determined that he would graduate from high school even though she was overwhelmed with worry and concern with her youngest son.   
At the beginning of her oldest son's senior year, Michelle receives a phone call that her mother was killed in a motorcycle accident. Two months later, her youngest son dies in a pediatric unit. It is her oldest son's senior year of high school, and Michelle takes a very brave step. She came to the Crawfordsville Adult Resource Academy and said that she wanted to graduate high school before her son goes to college because she doesn't want him to be embarrassed about her. 
The Solution
Michelle works hard and her skill levels increased, and I told her it was time for her to take the HSE. She became extremely nervous. And, then, she suddenly had some attendance issues. I called her and asked her to come talk with me. After just a few minutes in the classroom, she began to cry and I will never forget this. Through those dripping tears of her blue eyes, she asked, "You would tell me, wouldn't you?" I said, "Tell you what, Michelle?" "That there's something wrong with me! You wouldn't let me try to take the test, if there was something wrong with me, right?" 
So many issues in this young woman's life that have piled up over the years that challenges her to believe that she can get a high school diploma! 
The Outcome
Her son graduated from Crawfordsville High School last June. Michelle graduated last July. Last Thanksgiving Weekend, I was attending the annual Crawfordsville downtown Christmas kickoff when Michelle grabs my arm. I looked up to see her smiling from ear to ear. Yes, she was doing well, but more importantly, she wanted to introduce me to her son who was about to finish his first semester at the University of Southern Indiana. 
** The teacher wanted to keep "Michelle's" identity private
Braden Wallen
Adult Learner
The Challenge
Hi my name is Braden Wallen. I will tell you a little about myself and how I acquired my High School Equivalency and my plans for the future. I was raised in a little town about 50 miles from Bloomington called Brazil. My parents divorced when I was two and I moved back and forth between my Mom's and Dad's house a lot when I was growing up. I did end up living with my dad most of my life which was great because I was really close to my father. He was the fun dad that played video games, billiards, and would take you to arcades. My life was great until I got into High School and that was when my dad's health started to deteriorate. When I was starting my junior year of high school my dad could barely walk and was on oxygen so I decided to drop out and take care of him. He ended up passing away of a heart attack over three years ago and on top of my father passing away, which was the hardest time of my life, I lost my house because I didn't have the money to pay the bills. I just lost my father, my house, and I had no money. I ended up bouncing from house to house between friends, family, and homeless shelters.
The Solution
I found a homeless shelter in Bloomington that I ended up moving to. When I got to Bloomington I only had five changes of clothes and a backpack and that was it.  I knew I had to start a new leaf in life and I started to go to HSE classes at Broadview Learning Center and that is where I met Sheila Butler. She was the teacher of the classes and I didn't know at the time, but meeting her was one of the best things that ever happened in my life. Sheila not only helped me get my HSE in under five weeks but she also pushed me to get my Work Keys and got me ready to take college classes. I would have been grateful just for that alone but she took me into her house so I didn't have to live in any more homeless shelters or on the streets.
The Outcome
With Sheila's help I now have a job at Cook Medical and have my own apartment with no more government assistance. Now that I have my own place I can go to Ivy Tech and get a college education. I would like to thank Sheila for all that she has done for me. I would like to thank her husband Prince Butler for taking me to work every day and cooking wonderful meals. I would like to thank Rob Moore for helping me get a job with Cook. I would like to thank my friends and family for all the support they have given me.