Adult Education Innovations
State Data on Adult Education
---
Kansas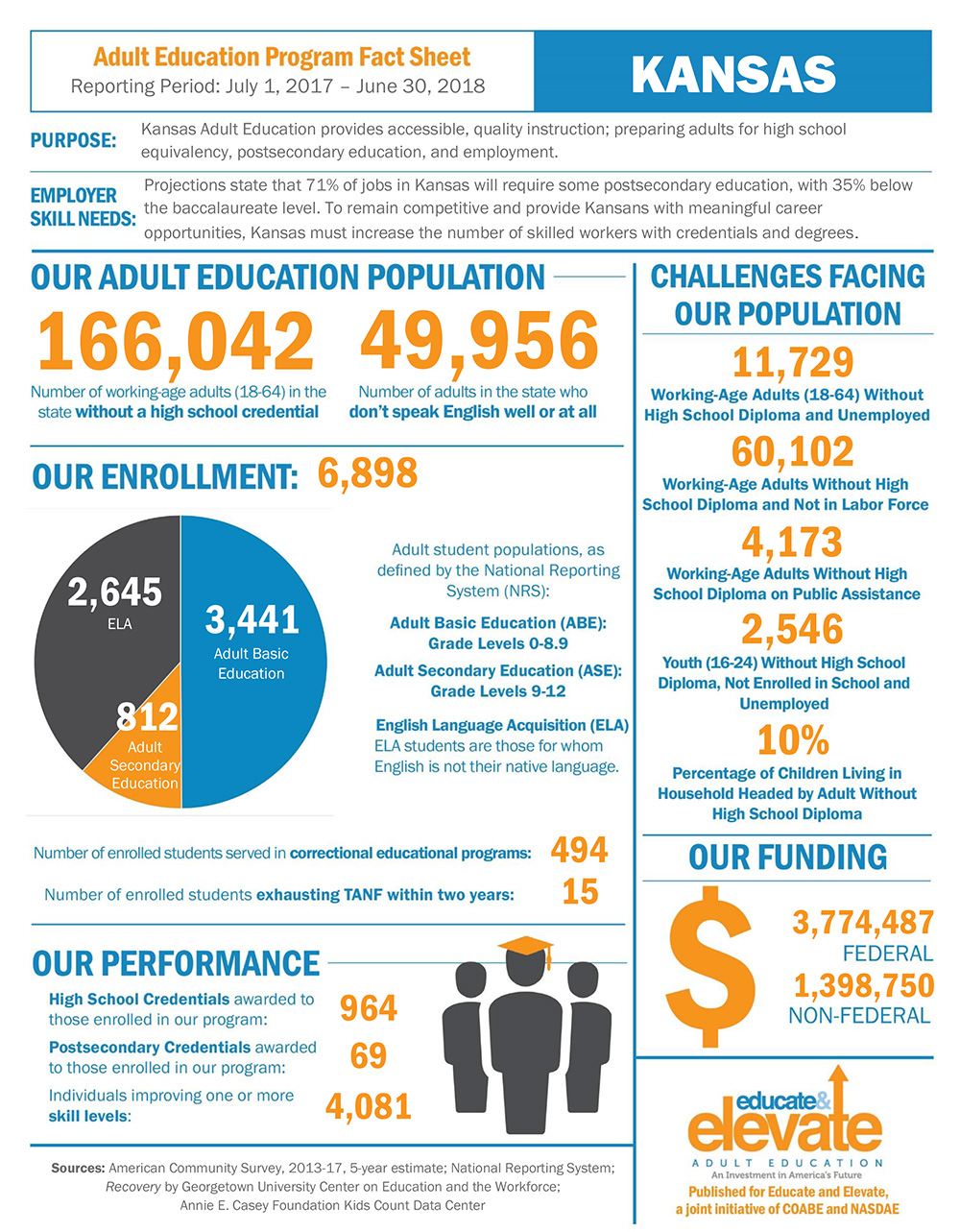 Adult Learner Success Stories
---
Kansas
Clarence White

Adult Learner
The Challenge
Clarence came to the Neosho County Community College adult program a year ago after having lost his job. He was an OTR truck driver who had a seizure while driving on a freeway. After many medical visits, he has been able to control them, but needed to re-invent himself for a different career. Even though Clarence is a non-traditional student who left school decades ago at 15 years old, he came every day for lessons and pushed through frustrations and challenges.
The Solution
Through intensive diagnostic testing with TABE and in-house curriculum, his teachers customized his learning plan. They aided him in acquiring basic technology skills and cross-platformed his lessons. Clarence needed multiple, repetitive lessons due to some memory retention issues. The teachers provided multiple textbooks and readings for him to take home and work on for retention and knowledge. They encouraged Clarence to work with other students helping them with the lessons he already mastered. His teachers helped him gain internet skills through Google Chrome, Google Maps, and Google Slides.
The Outcome
Clarence obtained his Kansas State High School Diploma and is now enrolled at Labette Community College in their welding program. He was also awarded the Kansas Outstanding Learner award for his commitment to the program and to education. Because of his new technology skills, he was able to successfully navigate OSHA's online curriculum and pass their testing and standards. He remains helpful, encouraging his fellow students and community just as he was in Neosho's program.
Cecelia Lopez

Adult Learner
The Challenge
Cecilia moved to the United States from El Salvador where she escaped a violent, abusive home environment and war-torn country. She didn't speak English when she arrived at the age of 15, and one of the first people her family met here told her that Hispanic people  don't come to the U.S. to go to school—they come here to work. Not knowing how to navigate the educational system and not understanding the language, Cecilia did what she was told and went to work as a janitor.
The Solution
Although Cecilia had a job, it was not fulfilling. She cleaned office buildings for 10 years. From the time she was a little girl, she dreamed of becoming an attorney. She had no idea how to achieve this dream, but the persistent thought stayed with her for years. One day as she drove past Johnson County Community College, she said to herself, "Someday I am going to be a student there." She went home that day and looked up the JCCC GED® prep program online. She called and enrolled in the GED® prep program with her sister, Jessica. Cecilia and Jessica felt, for the first time in a very long time, that there was something to hope for—a GED® certificate, an education, and a better life.
The Outcome
Cecilia worked tirelessly on her GED® prep studies and passed the test. She scraped together enough money to take a few classes at JCCC the following semester. She also got involved on campus, eventually serving as an officer for Student Senate. She was an Outstanding Student Award recipient at JCCC and received a scholarship to attend Rockhurst University, where she graduated with honors in 2015. She is currently studying law at the University of Kansas. Cecilia is now living her dream!
Van Tran

Adult Learner
The Challenge
Van Tran enrolled for English (ESL) classes. After assessment and pre-test, she was placed in the low-beginning class. At that time she was middle-aged. She had a strong desire to go to college, but she did not know how to go about it. None in her family or friends knew what her options were. She was frustrated because she did not have a high school diploma from a U.S. school because she was a refugee from Vietnam.
The Solution
The director talked to her in order to help her. He found out that she had a high school diploma from Vietnam. She established her residency in Wichita, Kansas. The director learned that Butler Community College (BCC) will accept high school graduates from other countries. They had to take math and English assessments. The director obtained sample assessments, Van prepared for and passed the assessments, and then enrolled at BCC. The director told Van that she should go to Wichita State University(WSU) after getting her associate degree from BCC. Van did follow through.
The Outcome
Van graduated from WSU with an undergraduate degree in mechanical engineering. She was hired as an engineer at Cessna and became a taxpayer. She also earned her master's degree in mechanical engineering. She was extremely happy and profusely thankful to the Wichita Indochinese Center for giving her basic English skills to cope with her English classes at BCC and to the director for guiding her to achieve her goal.