Adult Education Innovations
State Reports on Adult Education
---
Missouri

State Data on Adult Education
---
Missouri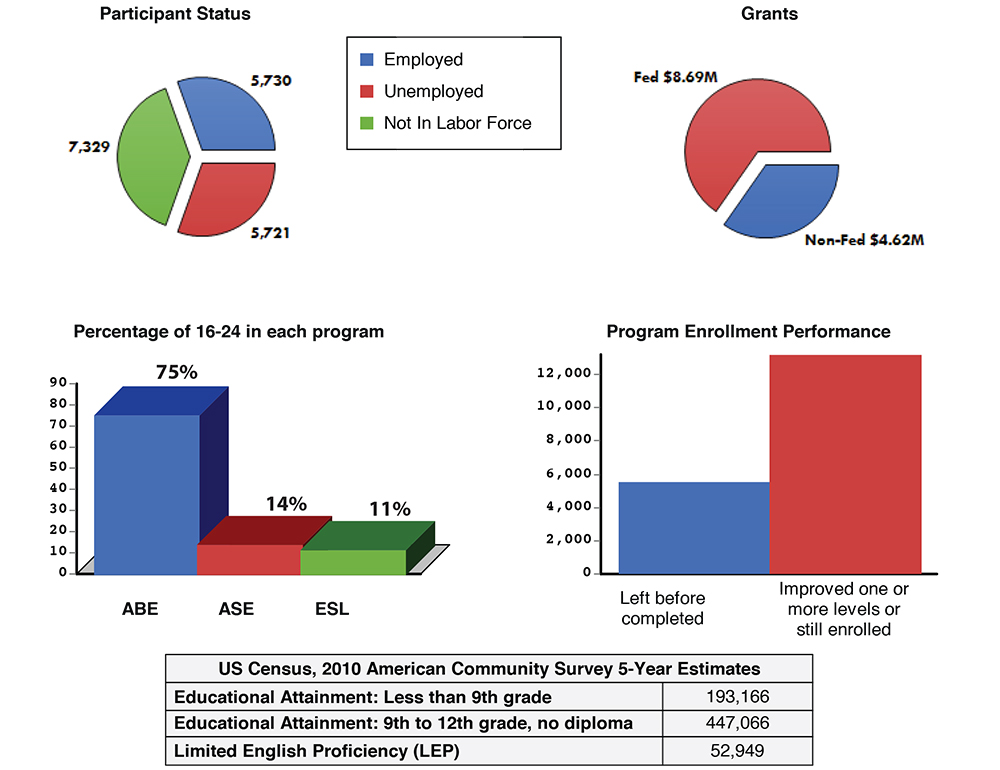 Adult Learner Success Stories
---
Missouri
Sandra Larson
Adult Learner
The Challenge
After giving birth to her beautiful daughter, seventeen-year-old Sandra was desperate to finish her education. She knew she needed to have a successful career in order to support her new family however, she was overwhelmed at the difficulty of caring for her baby while finishing a traditional high school program.
The Solution
Sandra enrolled in Joplin's adult education and literacy (AEL) program, excited about its qualified instructors, flexible schedule, and excellent support system. Sandra's teachers enjoyed her warm personality and eagerness to learn. She exhibited amazing leadership qualities. Although math was a challenge, Sandra was determined to stay the course. She passed her high school equivalency test and graduated from the Joplin Program.
The Outcome
Using the firm foundation laid by AEL, Sandra became a BSBA Finance/Economics Major. She graduated in May of 2005 and then attained her MBA in May of 2006. Sandra has worked as a financial advisor for Edward Jones and an advertising consultant for the Joplin Globe. Today her inspirational story has come full circle. She is currently a technology professional at corporate business systems, serving the same Joplin (AEL) Program that was there to lend her a helping hand when she needed it most.
Yolanda Porter
Adult Learner
The Challenge
Yolanda Porter is a FastTrack success story. After dropping out of high school, Yolanda worked nights for 15 years doing housekeeping jobs in hotels and hospitals. She tried several traditional HiSET programs in the St. Louis area, but with her work schedule and their attendance requirements, she was never able to complete them. 
The Solution
The St. Louis Community College offers an accelerated path called FastTrack for students to earn their high school equivalency. This program has flexible hours, provides individual tutoring, and tailors the HiSET curriculum to each student. Yolanda signed on, stayed committed and passed her HiSET in 10 weeks.
The Outcome
With her HiSET Yolanda has a new job at a local hospital and is currently taking classes at St. Louis Community College to enhance her skills in pharmacy technology. She has better working hours, increased pay, and access to higher education. "I entered the program with very little confidence in myself. I didn't believe I was capable of passing, but your wonderful staff helped me. Not only did I leave the program with my HiSET, I left believing that I could achieve anything I put my mind to."
Missouri
"Since I started the English as second language classes, my English has improved. At work, I communicate better. I am not nervous anymore. Now it is easier when I need to write a note or email. I understand more and speak more."
Martha Blake
"I entered the classroom a few times, in and out, before the year of 2016/2017. I had a severe drug problem, low self-esteem, and absolutely no confidence in myself. On August 11, 2016, I entered back in the classroom, being 8 months sober. I was so happy when I saw that Lorie Miller was still the teacher! This was a special year. Throughout this year, Lorie always believed in me when I didn't believe in myself. She never let me give up. She always pushed, encouraged, and gave direction! I am now 17 months sober and walking across the stage on June 8, 2017, with confidence!! The world may just look at Lorie Miller as a teacher, but her students look at her as a hero! Thank you, Lorie, for all the time and hard work you put into your students."
Dana Tabor
"I have been living in this beautiful country for 16 years. In 2015, my life changed. I made the decision to go back to school and try to get my HSE credential. It was very hard because my first language is Spanish. Mrs. Shirley Berryman, who always helped me and cheered me on, taught me that nothing is impossible. Also, Mrs. Gail Voss helped me through this process, as well as Ms. Ingrid Casillo. I'm the first Spanish student finishing the course and getting the HSE diploma from the Spanish program, which was implemented in 2015, and I'm so proud of my achievement."
Jose Viveros Barcenas