State Reports on Adult Education
---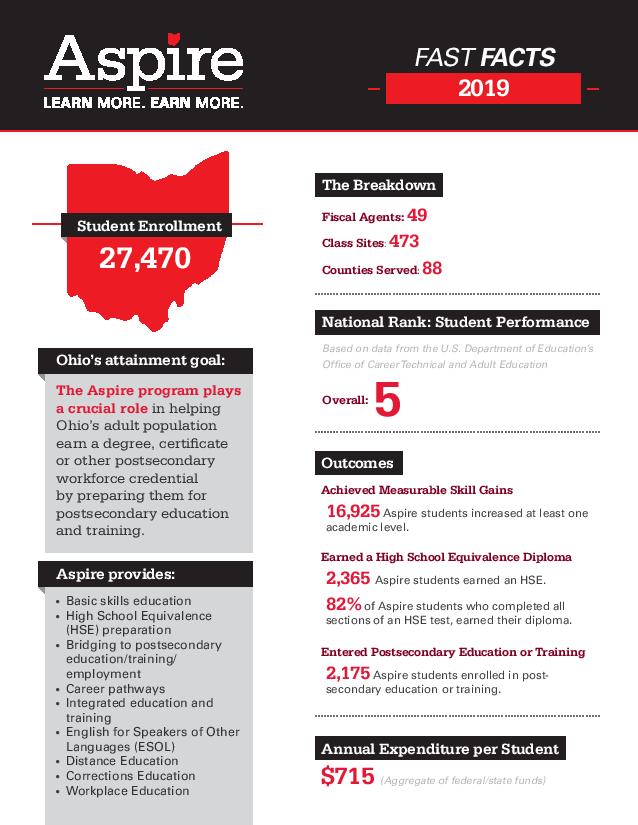 Adult Diploma Program
Cuyahoga Community College
Cleveland, Ohio
The Challenge
Over 146,000 Cuyahoga County residents do not have a high school diploma or equivalent and cannot elevate into better education or employment opportunities without additional training. Additionally, our major challenge focused on improving the literacy, numeracy, and computer proficiency skills of every program candidate in order to be successful in a contemporary college and career environment.
The Solution
The Adult Diploma Program (ADP) at Cuyahoga Community College (Tri-C) is a competency based high school diploma program that focuses on in-demand career training and certifications. Tri-C was one of the first five pilot sites for ADP statewide and saw a huge demand from the community when the application period began in July 2015. The initial goal was to reach 150 applicants. However, more than 2,000 qualified candidates applied, which showed the desire of our undeserved adult learners for this unique program. All ADP candidates receive a scholarship from ODE for their in-demand career training provided by Tri-C. At the completion of their training, they are awarded their high school diploma with evidence of college and career readiness.
The Outcome
ADP students complete their Ohio high school diploma requirements by participating in a competency-based learning program and demonstrating the mastery of skills in preparation for careers in fields such as healthcare services, manufacturing, logistics, and construction, with state and national certifications. In the 2016–2017 academic year, close to 65 ADP alumni have been awarded their high school diploma by the Ohio Department of Education (ODE) and the Ohio Board of Education.
College and Career Readiness Center
Owens Community College
Ohio
The Challenge
Many employers struggle with their employees' low literacy skills. This deficiency inhibits employees from promoting and/or efficient production. Employers and employment agencies have contacted us because they want to "invest" in their employees, so they can increase their literacy skills. It is difficult to find hard-working employees like the ones they have now, and employers are not interested in replacing them, just investing in them.
The Solution
We have been partnering with employers to create structured courses to help their employees increase their literacy skills. Some employers prefer on-site courses while others refer their employees to our campus. Our courses are company-specific cohorts, managed enrollment cohorts, or open enrollment courses. We provide highly skilled instructors in all classrooms. Professional development is continuously offered to our staff so they are always on the cutting edge of education and technology.
The Outcome
The outcomes of this innovation include higher skilled employees, which then promotes growth, employer support, and opportunities to recruit family and friends of the employees who have taken our courses.
"We all need someone in our corner, pushing us. When you do it by yourself, it's difficult."