Adult Education Innovations
State Data on Adult Education
---
Virginia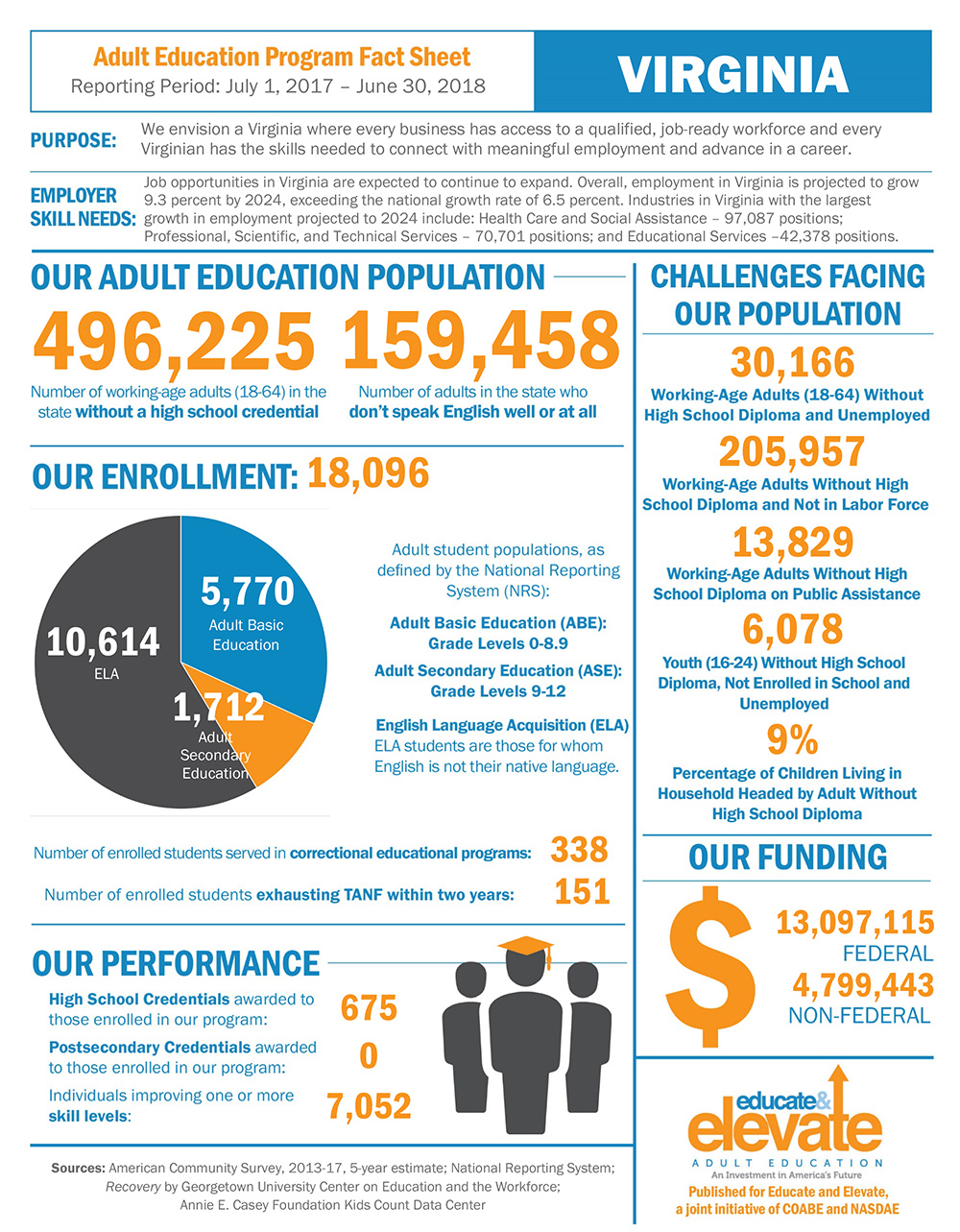 Adult Student Success Stories
---
Virginia
Kaitlyn Smitherman
Adult Learner
The Challenge
Kaitlyn Smitherman describes her formative years as being frantic, constantly moving all over the southwestern U.S. with her family. As a result, she was extremely shy and insecure and had no long-term friends. She dropped out of high school after ninth grade because she could no longer handle moving from school to school. After a move to Florida, Kaitlyn met her fiancé and relocated to his hometown in Virginia, facing financial challenges without a high school diploma or a driver's license.
The Solution
It was in Virginia's Russell County that Kaitlyn decided to enroll in a GED® test preparation class offered by Southwest Regional Adult Education in August 2016. In just seven weeks, Kaitlyn earned her GED® certificate. She currently holds the record of having the highest score made by any participant in the program on the computer-based GED® test. While in this class, Kaitlyn was informed about a PluggedInVA Medical Billing & Coding and Electronic Health Records program that was being offered by Southwest Regional Adult Education and ProTrain. She applied for admission and was accepted. She began the PluggedInVA program, which ran from October 17, 2016, to February 24, 2017, the week before she passed her final GED® subject test.
The Outcome
Kaitlyn excelled in the PluggedInVA program and earned a Career Readiness Certificate and certifications in Basic Life Support, Microsoft Digital Literacy, AMCA's Medical Billing and Coding Specialist, and Electronic Health Records Specialist. After program completion, Kaitlyn applied for an internship with Envision Eye Care in Cedar Bluff, Virginia and was hired. Kaitlyn also obtained her learner's permit on the day she took her last certification exam and is now learning to drive!